Ultimate tips for solo play: asshole is there for a reason
When I say an asshole is there for a reason, I don't just mean for number 2 purposes. I mean the ass is there to bring you immense sexual pleasure. Having someone drill your asshole till you start screaming from pleasure is not the only way to have an anal orgasm. You can get there all by yourself as well.
Does it hurt? What if I start pooping? How do I even reach my own butt? These are the questions that many anal masturbation beginners ask. It is true that anal play requires a little more preparation, but once you start experiencing the strongest orgasms, you will see that it is worth it. Whether you are new to anal play or just want to make your solo sessions steamier, these tips are guaranteed to help.
Before you start
Along with learning that asshole is there for a reason, there are a few things that you need to know before sticking your fingers up your hole. To simply answer the question about pooping – it happens. It's unpleasant, but it's normal. So don't beat yourself up if you suddenly feel the need to run to the bathroom during your ass play. However, you can do some preparations to minimize the chance for this to happen. Try emptying your bowels 45 minutes to an hour before you start. It is also wise not to stimulate your ass if your stomach is feeling restless.
Another crucial part of the preparation for anal action is hygiene. Your hands and your toys need to be clean so that you can avoid health complications. Take a warm shower and wash your asshole with water and mild soap. The hot water will also help your muscles relax, so sticking your fingers or toys up your ass can go more smoothly. Plus, you can point the water from the shower to your anus – it will additionally stimulate you.
The best thing you can do to prepare yourself for a solo anal session is to relax. Get yourself into the right mood. Take a few deep breaths to relax your muscles even more. A warm bath or essential oils are also a good way to loosen up. You can try jerking off in a way you are used to before slowly moving to ass play. Stroke your cock and play with your balls until you are on the edge of busting out. Touch your pussy, activate your clit, and use all the sweet juice to make everything wet. Pinch your nipples or touch other erogenous zones that allow your body to lose all the tension. Your butt will be more relaxed when you are turned on.
The smoother, the better
One vital thing to remember is that your ass cannot lubricate itself! So, you will need to use a lot of lube to make your ass play pleasurable and prevent skin irritations. Silicon-based lubricants are a great choice if you are using your fingers or toys made out of stainless steel or wood, or if you are covering them with latex (condoms, gloves, etc.). When you are sticking a silicon toy into your hole, use water-based or oil-based lube instead of the silicon-based one.
Another thing to pay attention to is your nails. It's best to trim them before playing because the skin inside your ass is highly sensitive. In case you wear long or fake nails, you can use finger cots or gloves and put some cotton wool inside the tips.
It shouldn't hurt
A common misbelief is that anal sex and anal masturbation always hurt. However, these activities should not bring you any pain if you prepare properly. You should start by rubbing the rim to relax the muscles. Then you can slip in a finger covered with lube. Stick it in slowly and hold it there for a bit of time. Then take it out and repeat. Take a break if you need to before sticking it back in. Do this a few times until you get used to having something in your ass, and then move on to two fingers or a smaller toy. Don't forget to add more lube before going in again. Remember, asshole is there for a reason, and that reason is enjoying a nice solo session. That means that you should be comfortable with every action you take in your anal play.
Stimulate your whole body
As you know, the prostate is a walnut-sized gland located two to four inches inside your ass. You can reach it with your finger, so massaging the prostate is a great way to get yourself in the mood and prepare your ass for deeper stimulation.
The asshole is there for a reason, but there is no need to limit your solo play only to ass. You can use your other hand for jerking off your cock, massaging your balls, rubbing your clit, or fingering yourself. Pay attention to your other erogenous zones, such as neck, nipples, ears, or any other body part that you like to be touched on.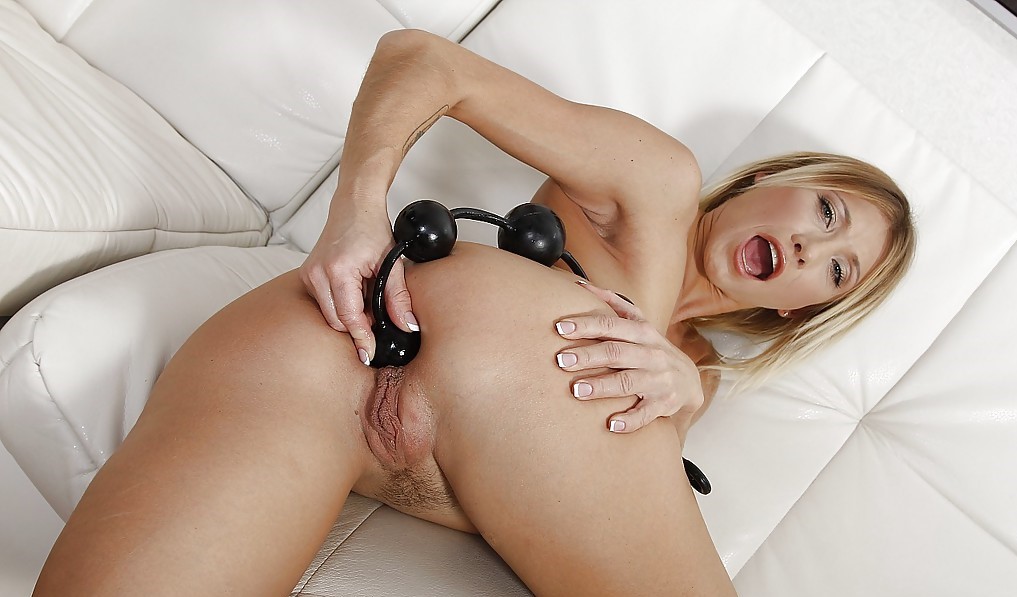 Best positions for ass play
Even though anal only seems challenging to reach, you can access it from various positions. The easiest position is probably the one that resembles spooning, only without the other person. Lie on your side, bend your top leg in the knee, and bring it as close to your chest as you can. This position will allow you to reach your butt effortlessly. Plus, it will open your hole naturally and allow smoother penetration.
You can also lie on your back, bend your legs and hold them up while watching best anal porn in the USA. You can put a pillow under your back to raise the hips and get easier access. It is also possible to lie with your face down and then reach for that tight hole.
For those who want to feel like someone is fucking them from behind, doggystyle is a perfect position. Reaching your arm over your back and to your ass can be a bit trickier while you're on all four (well, on all three, now that one hand is playing with your asshole). If you are already experienced in anal play, you can masturbate in doggystyle hands-free. Attach a dildo with a suction cup to the wall or the headboard of your bed, and bring your body to the dildo.
Another position in which you can use a suction cup dildo is the straddle. Attach it to the chair, straddle the chair backward, and bring your butt down on the dildo. You can hold onto the back of the chair for better stability while you ride the dildo. This position will allow the dildo to go really deep.
Bringing toys to the ass game
There is nothing as pure as using your fingers to explore all parts of your body. Still, playing with sex toys can make you experience stimulants you couldn't possibly achieve with your fingers alone. If you are a beginner, you can try butt plugs or anal beads. They vary in size, so you can choose as small or as large as you wish. Still, it is wiser to use smaller ones until your butt gets used to the penetration. They are great for the slow stretching of your asshole. Anal beads have a series of small spheres which give you a unique stimulation when you insert them and take them out repeatedly.
Those people who have a prostate can also consider using a prostate massager. It looks kind of like a butt plug, but it is designed to target the prostate. There are some multifunctional massagers that can simultaneously stimulate your prostate and perineum (that spot between your ass and balls) or your ass and dick.
I can't help but admire the inventive minds who came up with some of these sex toys, especially when I look at the rimming toys. They are shaped to stimulate the rim of your hole, but there are some extraordinary ones that can imitate ass eating with a motorized tongue.
You can, of course, use good old dildos and vibrators to plow your well-stretched asshole. There are even dildos made specifically for anal play, ranging in size and shape. It is smart to use a dildo with a broader base. That way, there will be no risk of the dildo going too deep and getting stuck inside of your hole.
Orgasm is not the end
I know that after you get to the most satisfying point and cum, you only want to chill, but playing with your ass will require some after-actions. Don't forget to throw away all the barrier methods you used, such as condoms, gloves, or finger cots.
Keep in mind that various bacteria are living in your colon, and although they make your bowels function properly, they can cause infections if they come in touch with your junk or mouth. So, it is essential to wash your hands and toys properly after sticking them into your ass, especially if you plan to touch your pussy or dick next. People with pussies should be extra careful as this juicy organ is more susceptible to infections.
Know that it is normal to feel a mild discomfort after thoroughly drilling your asshole. Still, you shouldn't feel any pain. If you start feeling sore while you are still masturbating, take a break and apply more lube. Don't go too fast or work yourself more than you feel comfortable, or your butt will hurt, and you won't be able to enjoy the great pleasure that anal play can bring you.
The asshole is there for a reason
The butt is an excellent organ for spanking and even better for plowing. And you don't even need a partner for using your ass to achieve mind-blowing orgasms. You can work your asshole yourself. Yes, it will take some preparation for everything to go smooth, but there are many nerve endings inside the asshole, which make this body part highly sensitive. So, it would be a shame not to use it. Your asshole is there for a reason. Use it and bring yourself to the best orgasm ever!
Stay updated with our NaughtyBlog and catch up with the best Porn Discounts and Porn Deals on the market!