Best positions for lesbian sex
There are countless hot options on the table when two (or more) pussies are involved. No, I'm not talking about FFM threesomes; I'm talking about the pure lesbian experience. Despite what some people think, lesbian sex can involve various acts, not just pussy licking or scissoring. This list of best positions for lesbian sex can give you many ideas of what to do with your girlfriend.
Scissoring
The reason why I'm starting with this position is that it's probably the best-known one. Still, scissoring is far from the most enjoyable position. It's widely known because of the porn movies that picture it as the ultimate lesbian pose. Intertwining your legs with your partner's so your pussies can rub on one another may look sexy in movies, but it's not so good in reality. The truth is, this position is not the easiest one to perform, as it requires both you and your partner to be pretty flexible. Plus, simple rubbing one clit of the other might feel good, but it is rarely enough to bring you to an orgasm.
Grinding
If you enjoy grinding and rubbing but don't want to get to the trouble of scissoring, there are other ways to activate your clit tingling with pleasure. You can straddle your GF's thigh or an arm and press your wet pussy to her soft skin, moving in any way that feels good to you. Or, you can sit above her torso while she lies on her back and rub your clit over her perky tits. That will simultaneously stimulate her nipples, so it's a double win.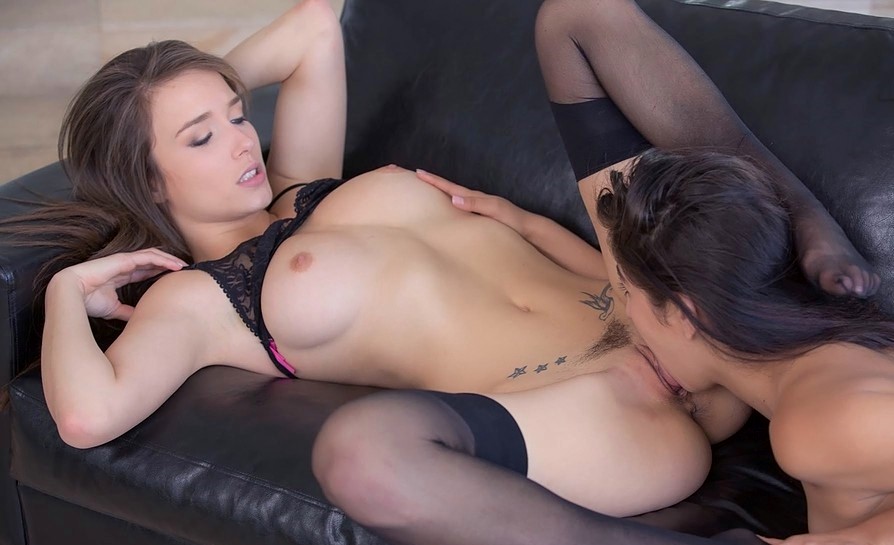 Best positions for pussy licking
The great thing about exploring your partner's hot pussy with your tongue is that you can do it in any position. You can choose the classic missionary – lie down and have your girl put her thirsty mouth near your crotch. This pose is comfortable for both of you, but it can get a bit boring over time.
Sixty-nine
Always popular, the sixty-nine allows both of you to enjoy at the same time. Once you take place, you can use both your mouths and fingers to stimulate each other's clits. However, sixty-nine has a major flaw. You can't focus on satisfying your partner if you are moaning and arching your back from pleasure. And neither can she. So, instead of getting some mind-blowing licking, you get something average.
Doggystyle
It may seem like this position doesn't give you easy access to the pussy, but it's actually quite the opposite. Doggystyle allows your tongue to enter your GF's tight hole from a new angle. This will make her toes curl, and her entire body tremble. You can even try reaching for the clit for extra points with her. Plus, doggy allows you to move to licking her asshole as well.
Facesitting
If you want to be dominant and control the way her mouth and tongue move on your pussy, you can try facesitting. Place your hips over her head while she lies down and move them any way you like. You can use your movement to guide her tongue or to rub your pussy off her face.
To spice things up, try the reverse facesitting. The principle is the same, except that you need to face her feet while your hips are over her head. Licking will feel different in this position because your partner's tongue will approach your pussy from a different angle.
Standing
It will feel amazing having your GF work your pussy while you are standing. This position allows her tongue to fully access all parts of your wet pussy. Lean your back against the wall for stability if you need. It will be hard to stand on your feet once the tremendous waves of pleasure start.
Best positions for fingering
If you and your girl are flexible enough, you can finger each other in any position. You can do it while lying down or while standing. The two of you can intertwine your hands and play with each other's holes or clits at the same time.
Spooning
There is something really intimate in spooning. Your sexy naked bodies are pressed against one another; you feel her hot breath on your neck, her soft skin on yours. Her hand can slide over your hip and reach your pussy. Or, you can bend your top leg in the knee so her hand can go under your leg and enter your hole from there. That angle makes the fingering more intense.
Doggystyle
Is there anything you can't do in this position? It definitely gets my vote for the best positions for lesbian sex. Get on all fours, raise your booty, and let her finger plow your pussy. Doggystyle is excellent for the finger to go deeper in the tight hole, reaching the best parts.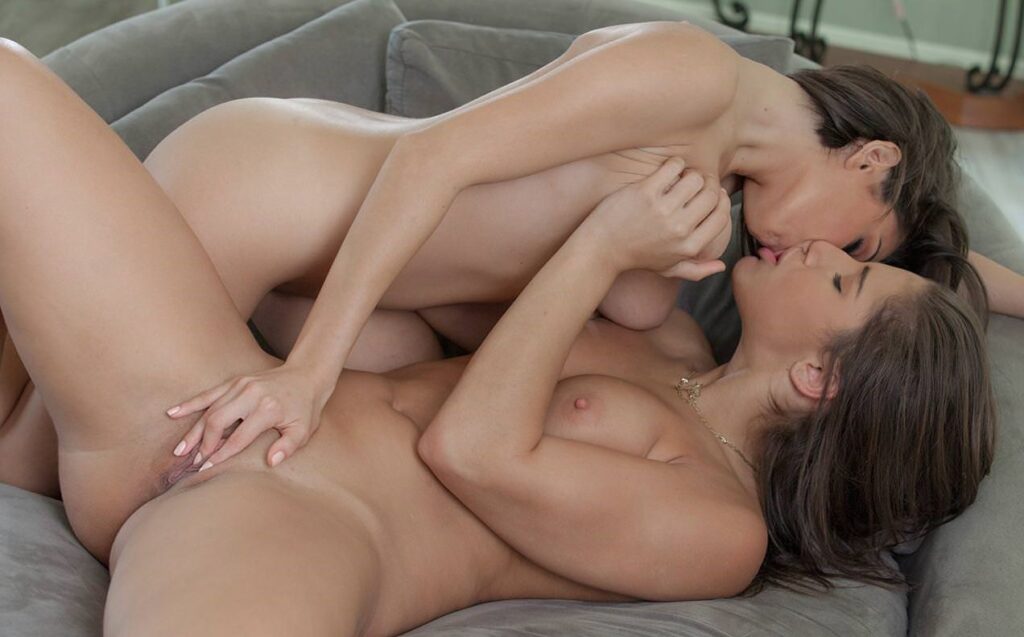 Best positions for lesbian sex with toys
If licking and fingering are not enough for you, you can always add toys. Use them on your girlfriend or have her use them on you.
When one of you is wearing a strap-on, fucking is possible in all the same position as when a cock is present. Doggy, missionary, cowgirl, or any other position you prefer. If you like banging doggystyle, you can try a strap-on with a curved shaft pointing downward. It is great for G-spot stimulation.
Double pleasure
For mutual penetration, you and your girl can try a double-ended dildo. The double-ended dildo looks just like any other dildo, only twice as long and with two heads on opposite ends. Don't you just love the variety of sex toys? And you can use it in multiple ways and in different positions, as these toys are usually flexible.
It is possible to use the double-ended dildo in the cowgirl or reverse cowgirls position. One of you can lie on her back with a dildo sticking out of the pussy, and the other one can sit on the other end of the toy. You can both move simultaneously, or one of you can set the tempo.
Another way of using the double-ended dildo is in a position similar to scissoring. The two of you can intertwine your legs, so your pussies are facing each other. Instead of rubbing your clits like you would do for typical scissoring, here you just need to move in and out to fuck each other.
For deeper penetration, you two can turn away from each other, get on all four, and bring your round booties together. Then both of you move your hips to stick the dildo deeper into your tight pussies or asses.
Sharing a vibrator
There are also double-ended vibrators that you can use in the same way. However, you can share a regular vibrator as well. It needs to be a long vibrator or one with a large head. That way, both of your clits can be up against the toy. You can get into the scissoring position for this, or one of you can straddle the other. The position will depend on how flexible you two are. Generally, you just need to intertwine your legs, place the vibrator between your clits, and enjoy the sensations.
Find your own best positions for lesbian sex
These suggestions can make you and your girl moan like never before, but feel free to explore other ways of bringing each other to a screaming orgasm. What feels fantastic for one person might not suit the other so well. It all depends on what kind of acts you both prefer. Each position is excellent for different acts, whether that's intense licking or deep plowing. So, it's good to be familiar with different positions so you can find the ones that feel best for you.
Stay updated with our NaughtyBlog and catch up with the best Porn Discounts and Porn Deals on the market!