Anal Beauty 10 - masterpiece of an anal film
Porn production has become more massive than ever in recent decades. There are so many porn movies and DVDs released every week that it is very hard for a particular movie to become as wide-known and popular as Hollywood movies can. Still, some full-length adult movies do get more attention than others. Anal Beauty 10 is one of the few hits that are still popular years after its release. Let's dive into this ode to anal sex.
Watch Full Movie "Anal Beauty 10" Here
(Anal Beauty 10 Video Is Not Hosted On Our Website – For DMCA Complaints Please Contact Owner Of Stream
Award-Winning Series
Anal Beauty Vol. 10 is the tenth sequel in the award-winning series made by porn director Greg Lansky and Tushy production. This anal series is Greg Lansky's masterpiece and it highlights the beauty and glamour of anal sex. Even though Anal Beauty 10 was released in August 2018, it doesn't stop being popular even 4 years later.
This feature movie stars the most passionate porn actresses who explore the wonders of anal sex. There are four separate porn scenes in this movie, each one following a different story and highlighting different models.
The girls' perfectly clean ass holes will be on display for 2 and a half hours (2 hours and 35 minutes, to be precise). That is pretty lengthy even for a feature movie, and viewers basically get four full-length porn scenes in one release. Even though each scene has an interesting intro that explains the setup, that usually takes only a couple of minutes, and the rest is pure sex.
Who are the stars of Anal Beauty 10?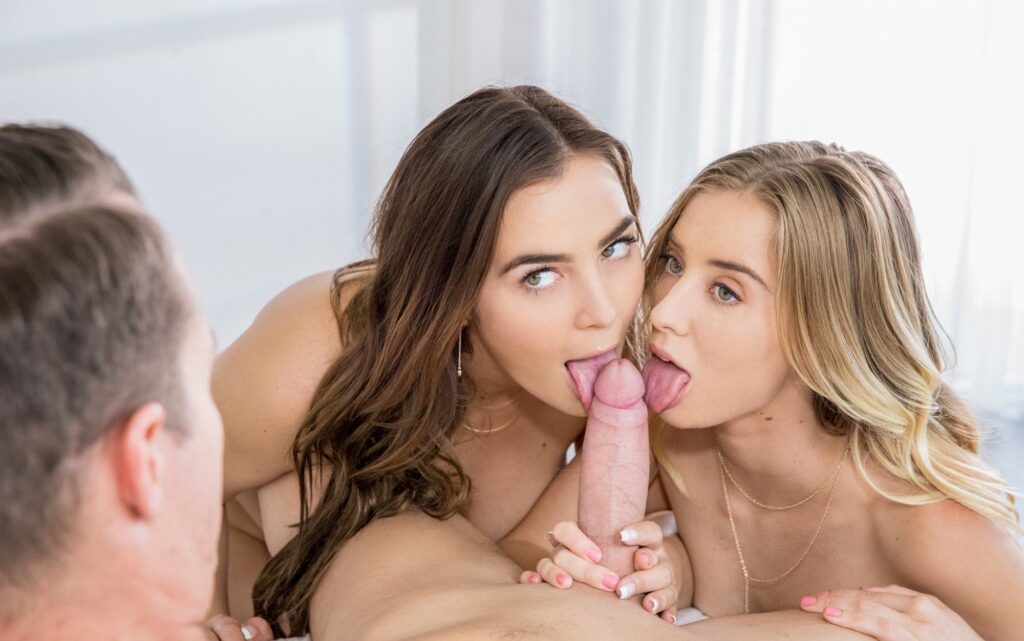 Any porn movie that is still the talk of the town after a few years must be incredibly well-shot and must star the best performers. So, who are the stars of Anal Beauty 10?
There are six hot pornstars in this production. The movie opens with beautiful Lana Rhoades sunbathing in a revealing swimsuit. The second scene features brunette Blair Williams and blondie Haley Reed. This movie's peek moment is the third scene. It resents international model Little Caprice, who is also featured on the cover. The grand finale shows Natalia Starr and Summer Day in a threesome. These pornstars have the hottest booties that are made to be worshiped and fucked hard. It is clear that they have found the perfect formula for gaining big sexy ass.
In the roles of horny dudes who like drilling spotless tushies, we see Chris Diamond, who fucks Lana Rhoades. Then there is Justin Hunt, who has fun with Haley Reed and Blair Williams. Marcello Bravo is the lucky dude who gets to bang Little Caprice tushy. In the end, Frenchman Jean Val Jean has a sexy session with Summer Day and Natalia Starr.
Quality Of Anal Beauty 10 And Extras
Anal Beauty 10 is available in ultra-clear 4K resolution. The filming is professional, which we can see from both the quality and the camera work. The sex is shot from multiple angles, and there are juicy close-ups and shots taken from afar. The creators also paid attention to the sound, which is better than in most porn movies. There is no echo, no rustling, only a clear sound of talking and moaning.
The era of poorly lit porn studios and videos with shaky camera work and grainy picture is over. Every porn fan today wants to watch all the shenanigans in ultra-clear resolution. It is how it is; the technology advances and porn production studios have to adjust and keep up if they want to be at the top. That is why it is important to address the topic of this movie's quality.
As for the bonus content we get with the Anal Beauty Vol. 10 DVD, there is a cumshots recap. To make it clear, the recap is not included in the two and a half hours of the movie but comes as a separate file on the DVD. It is great when productions include things like that because 1) there is more content, and 2) we can quickly go back to the best parts. The DVD also contains a gallery of digital stills. These photos are of high quality and very arousing to view.
Anal Beauty 10 Synopsis
Anal Beauty Vol. 10 contains four different scenarios. They are all very exciting and well-made. Since each scene features different babes, I will present the scene descriptions under the models' names in order of appearance.
Lana Rhoades anal scene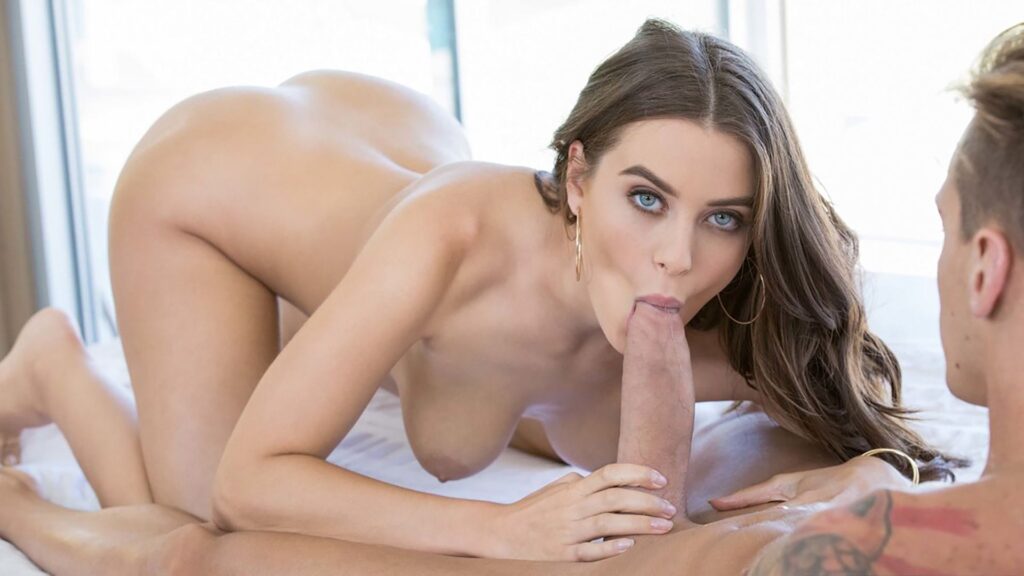 Lana Rhoades is a big fan of a famous DJ (Chris Diamond) and her boyfriend is a talent manager who happens to be working with Chris. She is super excited when Chris comes to their house for the weekend, but she is also nervous. Apparently, the hot DJ has always been Lana's celebrity crush. Sparks fly between the two of them even though Lana's BF is with them. The beautiful brunette wants to be faithful, but the tension between them is palpable. When the talent manager has to go on a business meeting, Lana and Cris get left alone and they immediately grab each other. After some marvelous face fucking, it is time for Lana's ass to get banged. They go from cowgirl position to doggy, to missionary, and end the scene with a messy facial.
Haley Reed anal scene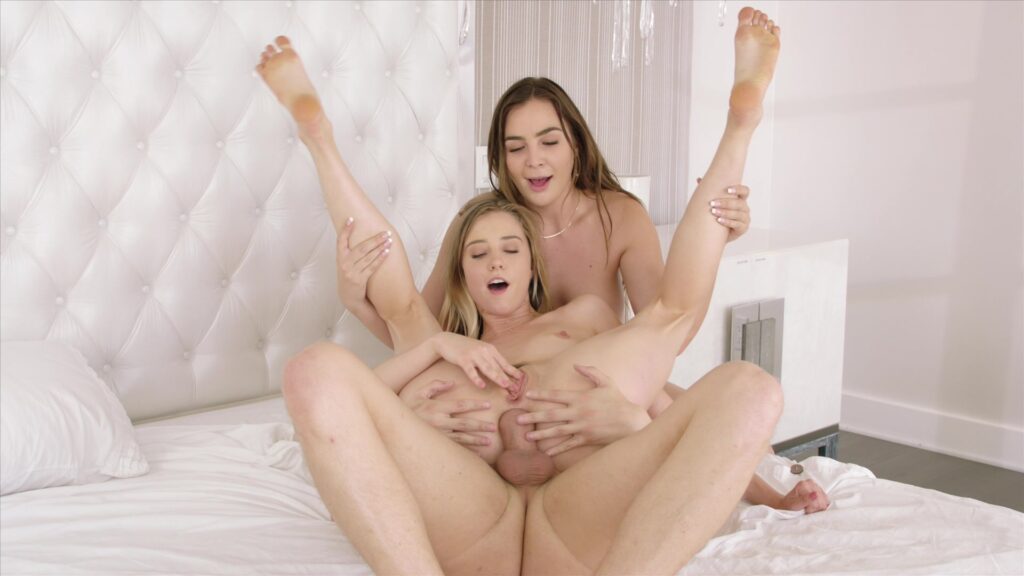 Blonde hottie Haley Reed is working for Blair Williams, who is probably the best boss ever. Sexy Blair is trying to help Haley forget her lousy boyfriend. This smart business woman knows that the best way to get over someone is to bang someone else. And Blair will do anything to help her employee. That includes joining her and Justin Hunt for a hot threesome. The girls who their impressive skills in sucking cock and Haley also works her boss's ass hole with her tongue. After some more oral action, it is time for Justin to go from Haley's twat to her other hole.
Blair Williams anal scene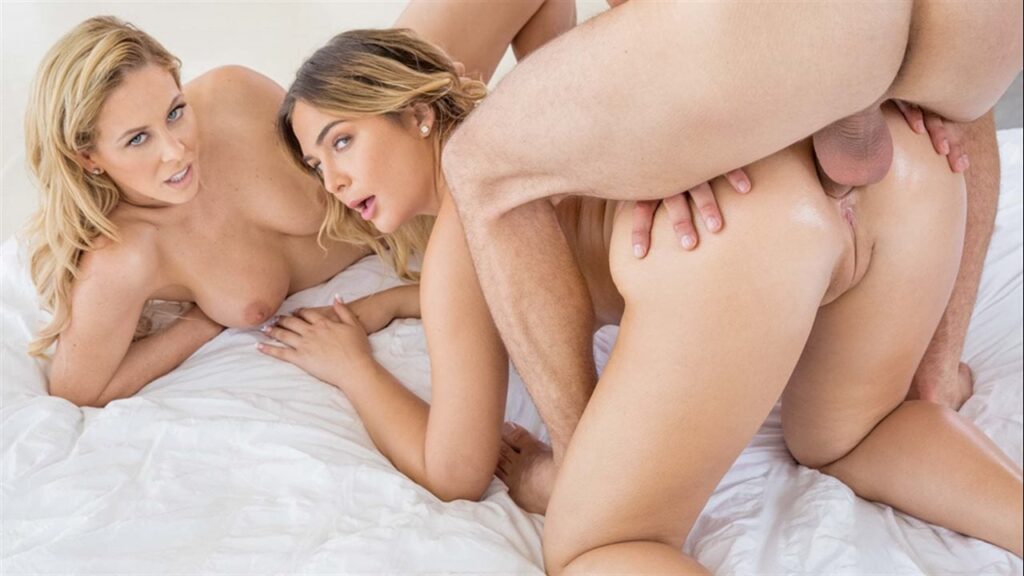 Even though gorgeous Blair Williams set up the ménage a trois in order to help Haley Reed, she will get a lot out of it as well. Between nasty oral action, rimming, and licking everything off of Justin Hunt's dick, this brunette rides the stud cowgirl style and doggy style. Two girls switch a few times, paying attention to let the other one have enough of Justin's hard cock. It is clear how horny they are, and they don't stop eagerly kissing even when the stud shoots his white gold over their pretty faces.
Little Caprice anal scene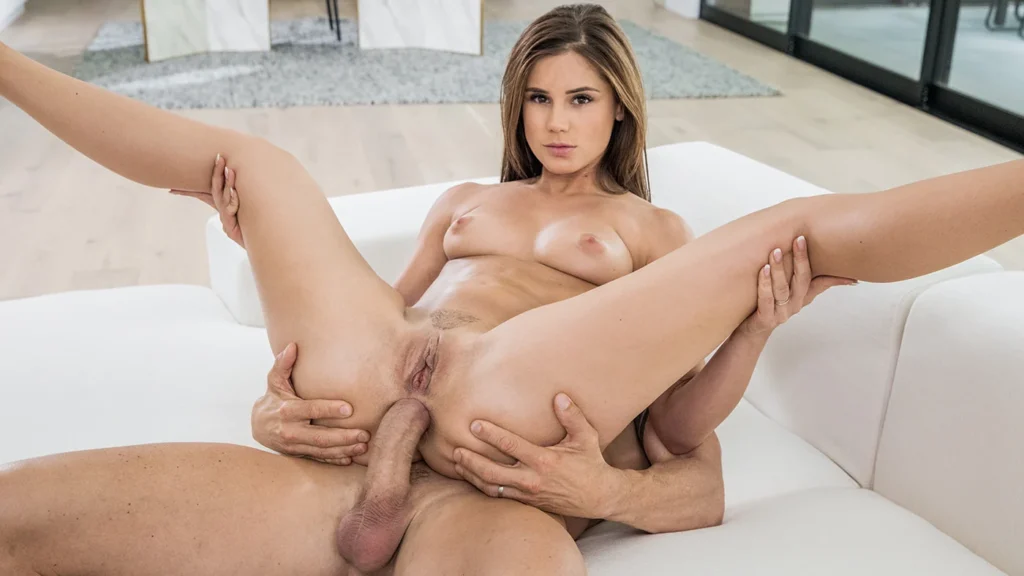 The most praised part of this movie is the Little Caprice anal scene. This sexy babe from the cover is playing a horny wife who has the hots for her husband's boss (Marcello Bravo). The two of them waste no time and start fucking as soon as Little Caprice's hubby leaves them alone. Bravo bends over the petite babe in the kitchen and jams his stiff rod right into her shithole, skipping the foreplay and warming up. Caprice then gags on his huge cock and shows everyone her little mouth can take a lot. After some more doggy style banging in the kitchen, the two of them move to the living room and ruin the white sofa with their shenanigans. LC pushes down on Marcello's dick in reverse anal cowgirl and more doggy. Things get a bit rougher with choking, hair pulling, and gaping, but there is also some ass-to-mouth action. In the end, Marcello treats the little slut with a big anal creampie.
Natalia Starr anal scene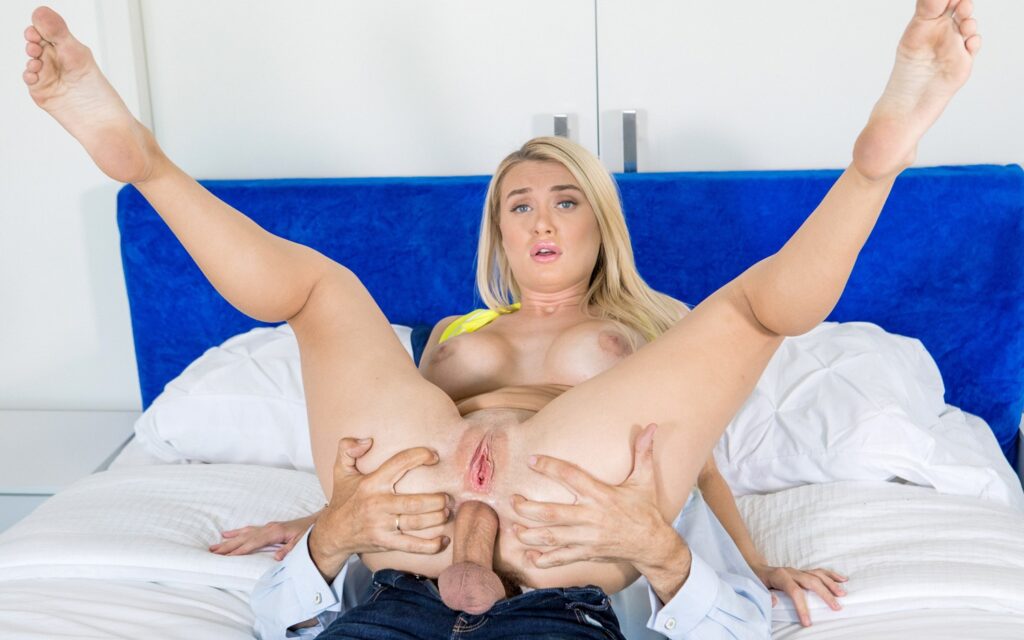 The final scene features horny Natalia Starr who get down and dirty with her husband, played by Jean Val Jean. He dives deep into her pussy and ass hole, before things get even hotter. Jean doesn't know that his wife paid beautiful blondie Summer Day to pleasure them both with some skillful oral action. The French stud face-fucks both chicks before Natalia jumps on his cock in cowgirl style. Summer is there to give the horny brunette more stimulation by licking her asshole while she rides her hubby.
Summer Day anal scene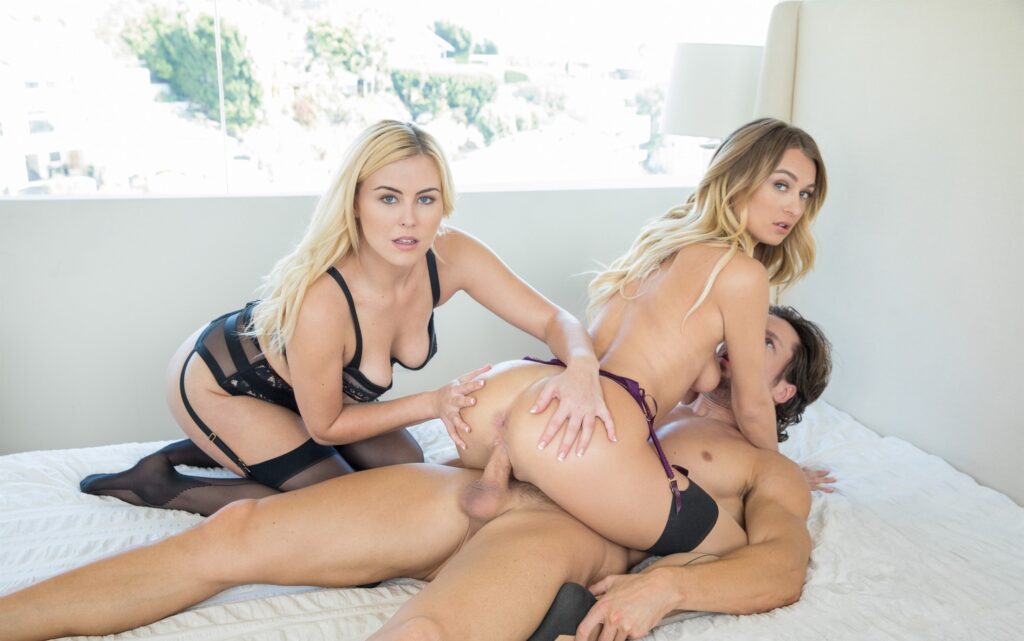 There is no one better for a hot threesome than Summer Day. This babe is just what the married couple needed to spark up things. After Summer rims Natalia Starr's craper, Starr gets into reverse anal cowgirl, and Summer gets her ass worshiped too. Summer then helps Natalia's gap to get even bigger by holding her ass cheeks for Jean Val Jean to slam. Her pretty little mouth works relentlessly, going from ass to cock, lubricating them and cleaning all the mess with her tongue. Naturally, she happily licks clean all the sticky cum in the end.
Tushy production
The Tushy production is famous for glamcore anal sex scenes. Besides releasing explicit DVDs, these guys also run seven porn websites under the same name. Tushy has a lot of exclusive series that have the cinematic values of glamour porn as well as hardcore action with nasty anal and facial cumshots, gaping, double penetrations, rimming, and similar acts.
All of the movies that his studio produces are top-quality and available in 4K resolution. The site receives new scenes weekly and everything is up to date – from the interface and all tools the fans expect to glamorous setups and costumes. Their cast includes some of the most beautiful pornstars with fuckable tushies.
The Tushy site offers a few types of membership, with the major difference being the number of sites included in the subscription. They let members choose if they want to join a single, main website, or take the whole package and subscribe to all 7 sites. This company values loyalty, so they also offer third-party channels as a reward that only members who stick with them for a certain amount of time can get.
The mastermind behind Anal Beauty 10
As I have mentioned, Greg Lansky is the porn director who made the Anal Beauty series. This French director, entrepreneur, and investor has over 15 years of experience in the adult entertainment industry. After directing porn movies for Reality Kings and other big companies for several years, Lansky decided to launch his own company. He founded Vixen Media Group, which operates Tushy and two other studios, Vixen and Blacked.
Lansky considers his adult movies to be art. Critic and industry experts compare him with Hugh Hefner and Steven Spielberg. He was AVN Director of the Year three years in a row and won many other industry's awards for his directorial work and his studios.
Anal Beauty 10 Gallery Preview