Most Beautiful Pornstars Of 2022 Updated
We can agree that all pornstars are very attractive. Whatever their body type, hair color, or size of boobs are, they are super sexy. There are many porn models with pretty faces, bright smiles, and seductive eyes, but only some very special ones can make you horny just by seeing their faces. These are the kind of girls whose faces look like they belong to the ancient statue of goddesses. Porn fans spend a lot of time inspecting the pussies and tits, but they also love seeing a pretty face. And these babes have it all – they are the most beautiful pornstars of 2022.
Table of Contents
Who are the most beautiful pornstars?
These are the ladies that could easily be fashion models if they wanted. That's how beautiful and sexy they are. However, they love fucking in front of the camera too much. Let's see who are the most beautiful pornstars.
23. Lily Lou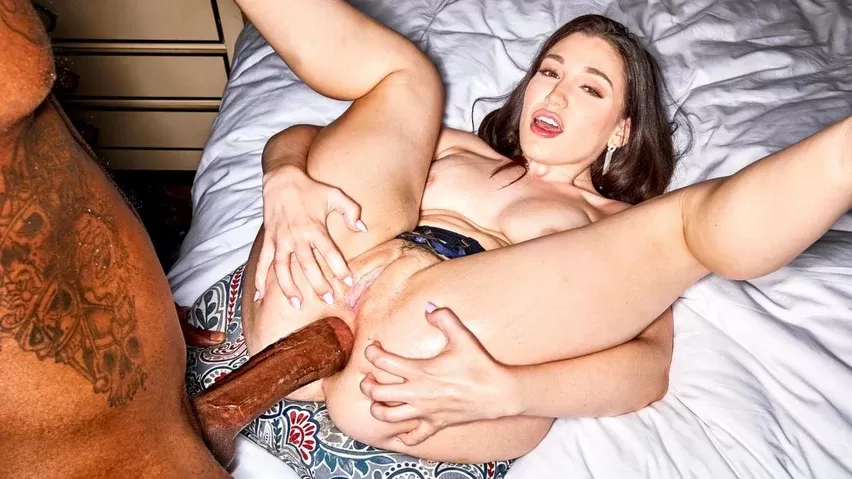 It has only been a year since Lily Lou started performing and she is already a hit. This model, camgirl, porn actress, and content creator has already done movies for the biggest production studios such as Reality Kings, Brazzers, and Evil Angel even though she appeared on the scene in the summer of 2021.
Lily was in St Louis, Missouri on February 3, 1997. She has small, all-natural tits, big sexy booty, and a gorgeous smile. You can see her in all kinds of scenes, from hardcore family taboo porn to lezdom and solos.
22. Madi Laine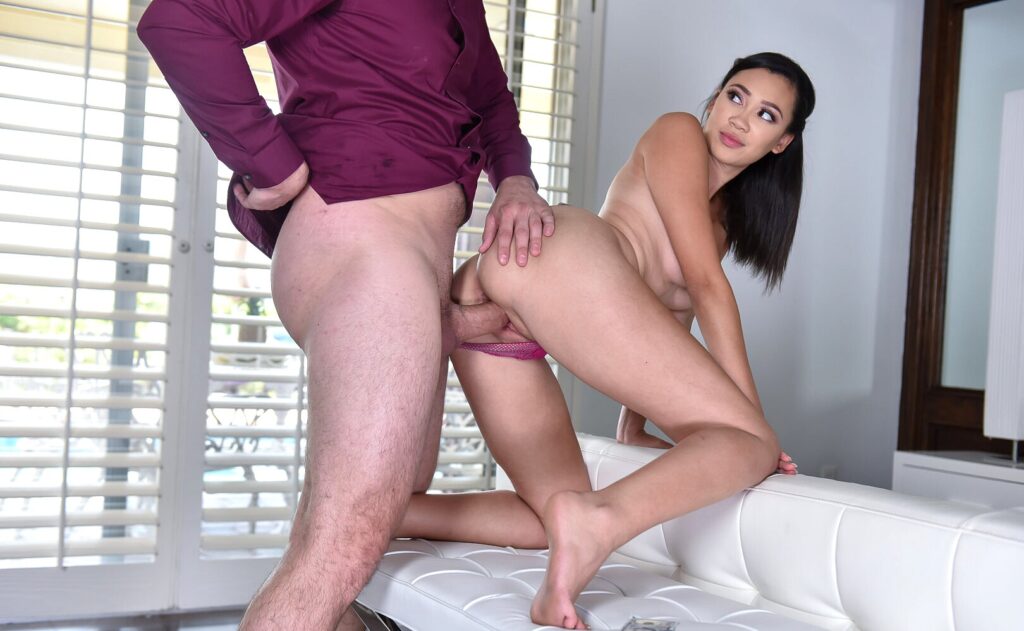 Madi Lain is one of the most beautiful Asian pornstars. This sexy brunette has a lean and tall body, as well as perfectly round, mid-size boobs. Madi was born on August 8, 1994, in Michigan, US.
This Asian stunner adores burring her cute face into wet pussies. She also loves feeling a big hard cock in her own hole. One look at her, and you will drool, eager for her sweet body.
21. Kylie Rocket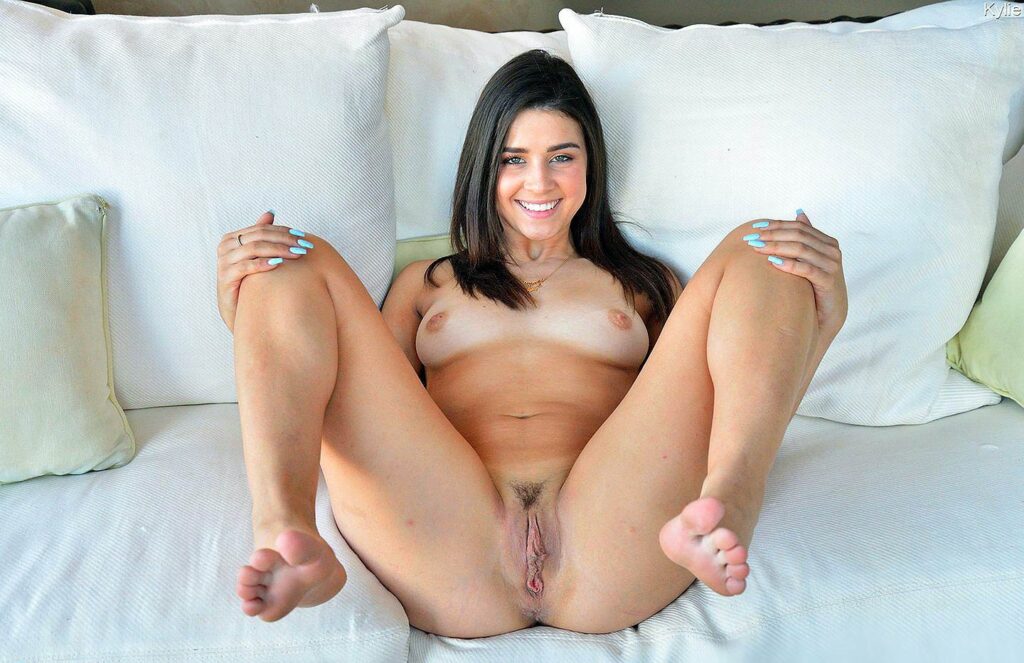 If confidence makes everyone more attractive, then Kylie Rocket is a real goddess of beauty. She has a pretty face with a bright smile, curly brown hair, and a very pleasant and confident personality. Kylie was born in Fort Lauderdale, Florida, and is of Puerto Rican descent.
Discovering porn at a young age helped Kylie learn a lot about sex. Her first steps in the industry were as a webcam model. She did that for a few months before deciding to try filming hardcore porn in the middle of 2019 when she was 18 years old. This small boobs pornstar looks amazing whatever she does, whether it is a solo scene or a hardcore session. Perhaps it's her active daily routine of going to the gym and doing pilates that keeps her body fit for fucking all the time.
20. Gianna Dior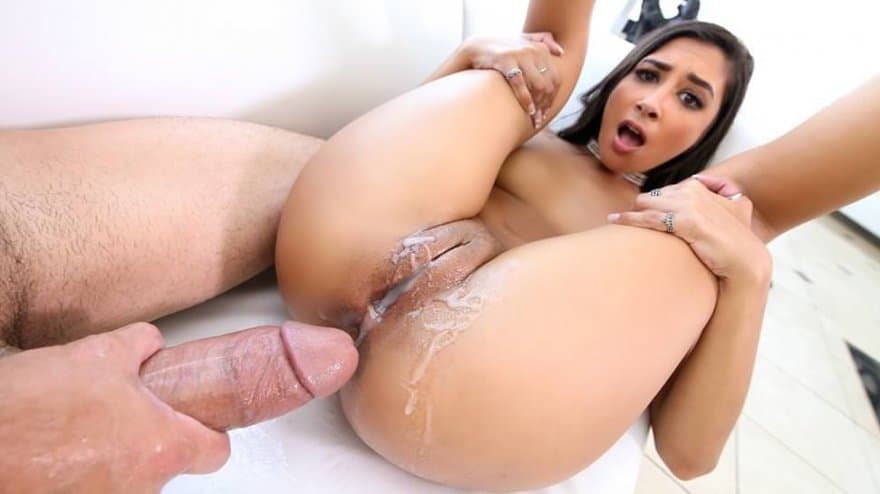 Southern beauty Gianna Dior comes from Andalusia, Alabama. She is of Italian and Native American descent and was born on May 12, 1997. This sexy brunette has soft facial features, an athletic body, and big round tits.
Gianna took the industry by storm from the very beginning of her career. She debuted in May 2018 and shot more than 10 scenes in the first month. Even though she was a bit shy at the start, her movies still looked very sexually stimulating. Working with top pornstars helped her relax over time, especially because confidence in men is her turn-on. She also made some very compelling lesbian scenes.
19. Stacy Cruz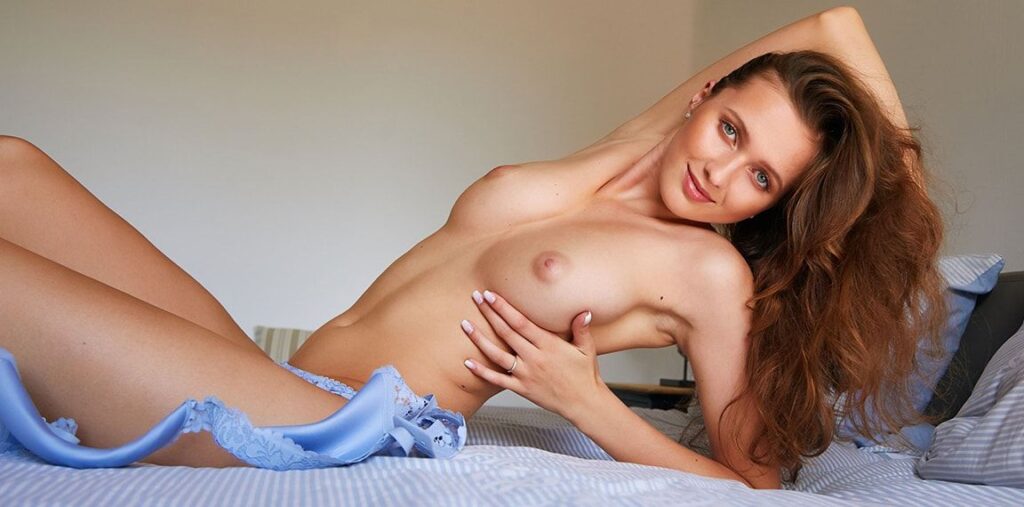 The Czech Republic always births the most beautiful pornstars. Stacy Cruz is no exception. She was born on March 24, 1999, and she has a tall athletic body with round 33C boobs. This teen pornstar became an instant sensation when she appeared on the scene in 2018. She had great dedication to work and shot over 20 movies in the first year of her career.
This beautiful Czech pornstar loves hardcore, lesbian, and solo scenes, and she is good in all of them. You will enjoy seeing her playing games with other girls and teasing as much as you will enjoy watching her take a big creampie or play alone with her favorite toy – the Hitachi wand.
18. Alyx Star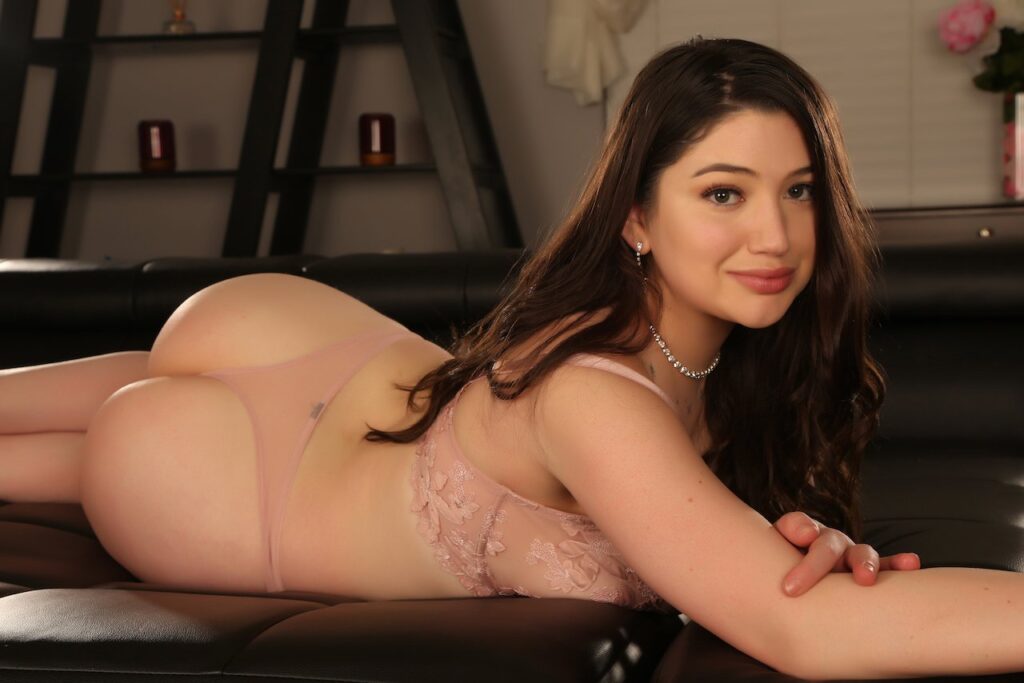 An interesting fact about Alyx Star is that, even though she has triple D boobs, hers are the smallest ones in the family. She said her melons are all natural and that all women in her family have big boobs. It could be that porn scouts from Motley Models noticed her on social media when she was 18 years old precisely because of those balloons.
Alyx was excited about the offer, but her mom advised her to wait until she is at least 21, so she did. In the meantime, Alyx built a career for herself and opened her own company. However, when she turned 21 in 2019, she wanted a change so she called the guys from Motley Models and signed a contract. This busty brunette appeared in all kinds of movies, from solo and lesbian to boy-on-girl and orgies. One of the most exciting scenes she did was an orgy with 15 people.
17. Scarlit Scandal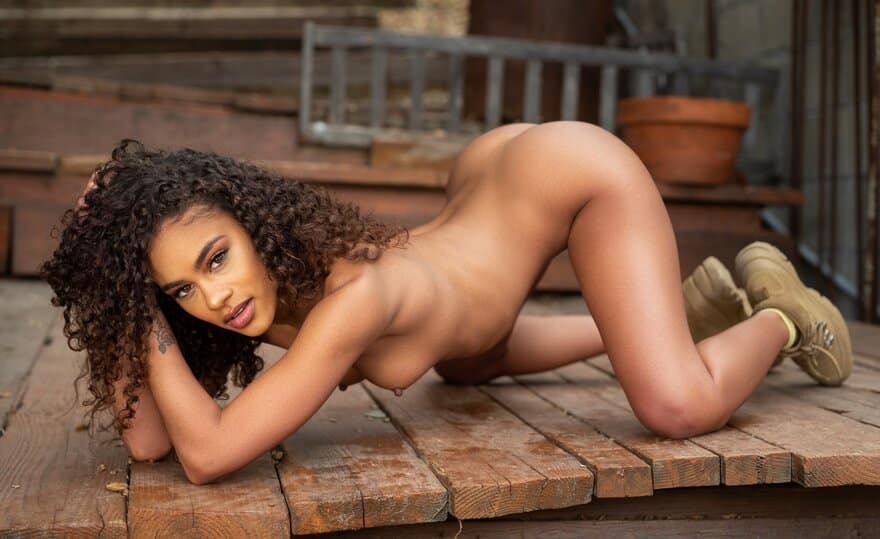 Scarlit Scandal is a hot ebony Latina with curly hair and a super cute face. She is one of the names you will most often see if you enjoy teen porn. Scarlit debuted in March 2019. The producers of Bang Bros, Girlfriends Films, Reality Kings, Babes, VR Bangers, and other studios saw her potential and gave her a shot. And they weren't wrong. This babe looks amazing in all her scenes, whether they are solo or with other hot performers.
This teen porn model comes from Fort Pierce, Florida, and was born on April 27, 1999. Besides a pretty face, Scarlit also has full lips made for sucking cock and a pair of small perky tits.
16. Freya Parker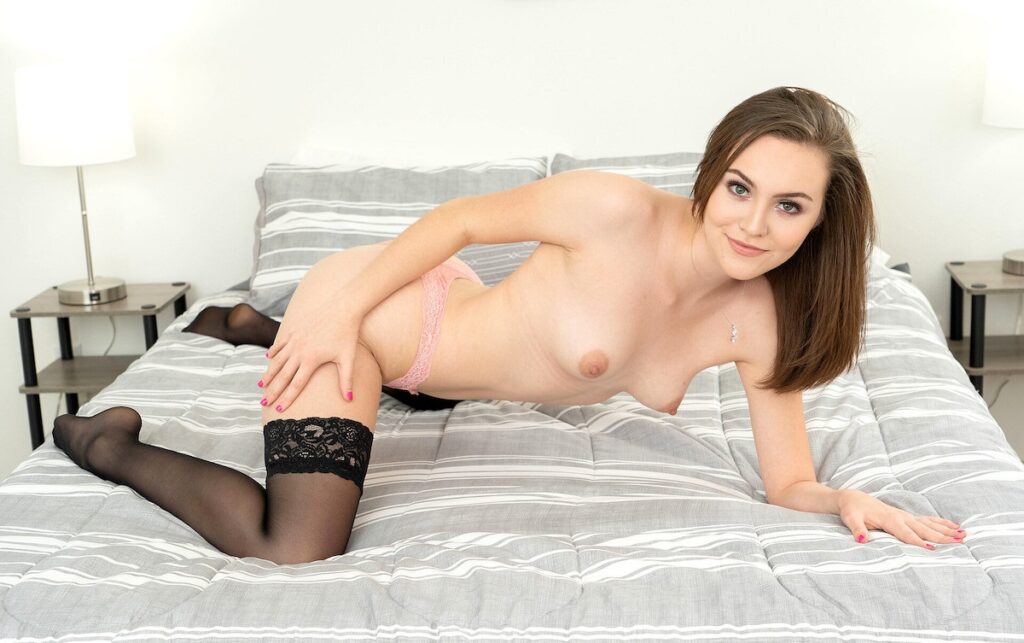 With an innocent smile and deep green eyes, Freya Parker is a real dollface. This young babe comes from Fort Collins, Colorado and was born on December 19, 2000. She loved modeling from a very young age and even participated in Denver Fashion Week when she was only 6 years old. She also did a runway show for a department store and even filmed a TV commercial. During her high school years, Freya was very popular, and she was also a rebel, participated in the school's diversity leadership council, and had excellent grades. As that is not enough, she also played football for ten years.
How did she become interested in porn? Since she was 18 years old, this cute babe has been collecting Playboy and Hustler magazines, sex toys, and porn DVDs. She loved writing essays about porn movies she watched, and pornstars were her role models. So, it was only a matter of time before she would follow in their footsteps. Then the pandemic happened, so she replaced her boring job with webcamming. It didn't take long before the first offer from a scout came into her DM, and she gladly accepted it.
15. Jasmine Wilde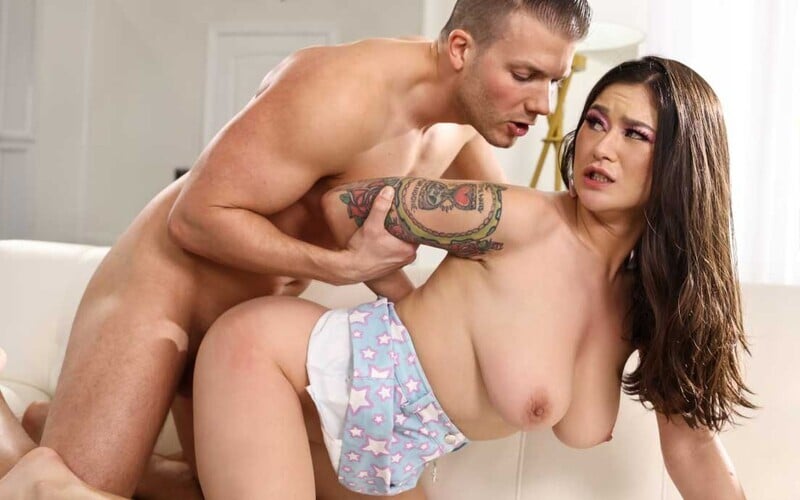 Jasmine Wilde is another newbie on the list. This model, actress, and content creator started performing in the spring of 2021. In the short time that she's been active, Jasmine has already gathered some notable nominations, such as the "Best Sex Scene – Performer Showcase" at the 2022 XBIZ Awards and "Best Foursome/Orgy Sex Scene" at the 2022 AVN Awards.
This brunette pornstar has wowed everyone with her all-natural double Ds and a cheerful personality. She also has a lot of tattoos and a few piercings. Jasmine appeared in various porn production, such as Team Skeet and Girlfriends Films, and shot all kinds of content, including straight and lesbian, and even some virtual reality porn.
14. Josephine Jackson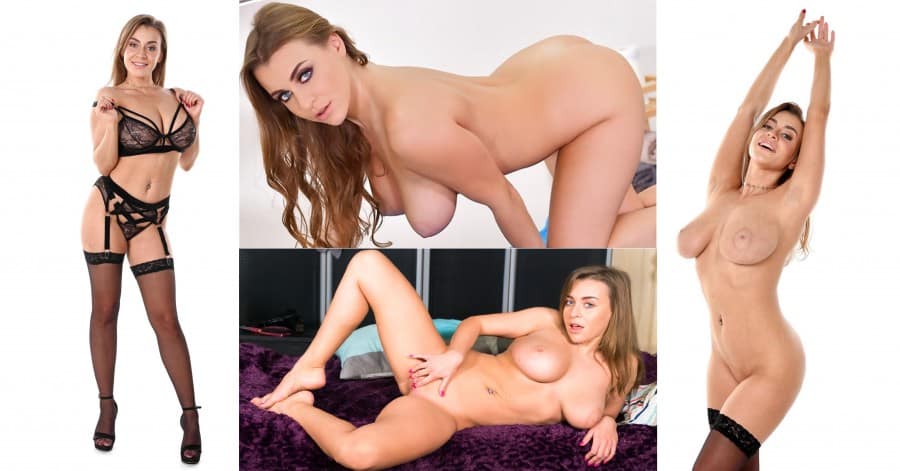 Josephine Jackson was born on February 1, 1995, in Ukraine. This vixen became very popular in 2019 when she appeared in the porn world. With huge 35DD tits, this Eastern European pornstar easily gained many fans. Josephine is one of the most recognizable beautiful pornstars.
In some of her early work, Josephine used different stage names – Jozephine Jackson, Josephine B, Josephine Bells, and Josephine C. Her rich portfolio includes a lot of role-playing because she is perfect for the roles of young moms and teachers. She also brought to life many fantasies about naughty nurses, bosses, and secretaries. Some of her best appearances are on Sexy Hub's sites like Massage Rooms and Fitness Rooms.
13. Nancy Ace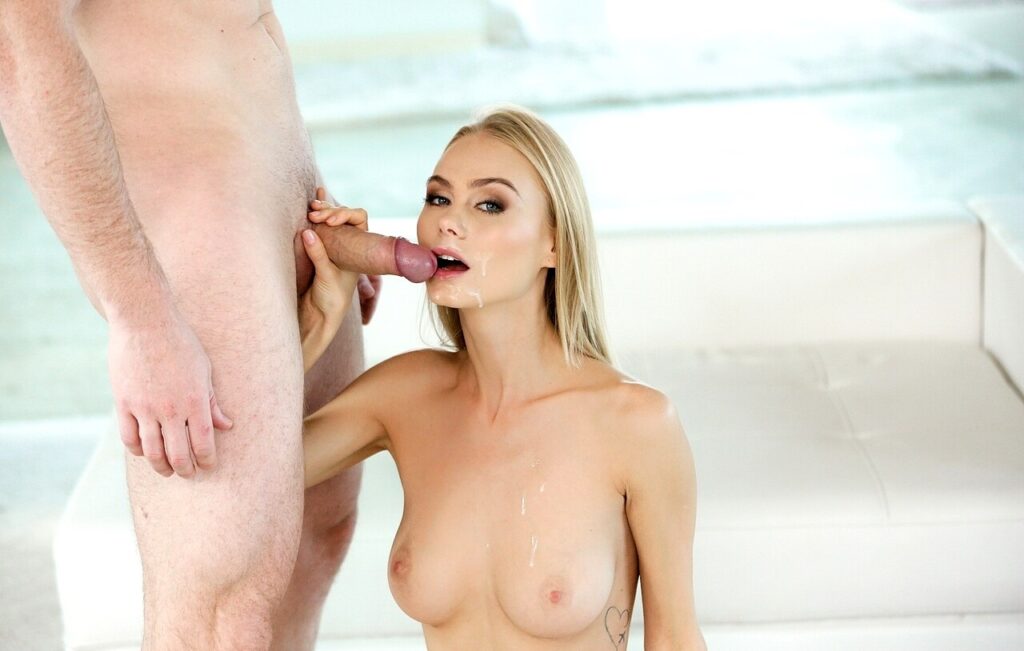 I can never get tired of blonde girls with angelic faces and blue eyes, and Nancy Ace is one of them. This Eastern European stunner comes from Kyiv, Ukraine and she was born on November 17, 1994. Going to the gym every day does wonders for Nancy's body so she has a perfect slim figure. Her soft pale skin, C-cup breasts, and firm ass make it even more desirable.
Nancy's career started in 2014. Although she is heterosexual, most of her porn movies are lesbian encounters or solo scenes. This beautiful pornstar loves pleasing herself and that is what makes her solo videos so special. The most important step in her career was when she convinced her boyfriend (now husband) Martin Stein to enter the industry himself and started shooting boy-on-girl scenes with him.
12. Liya Silver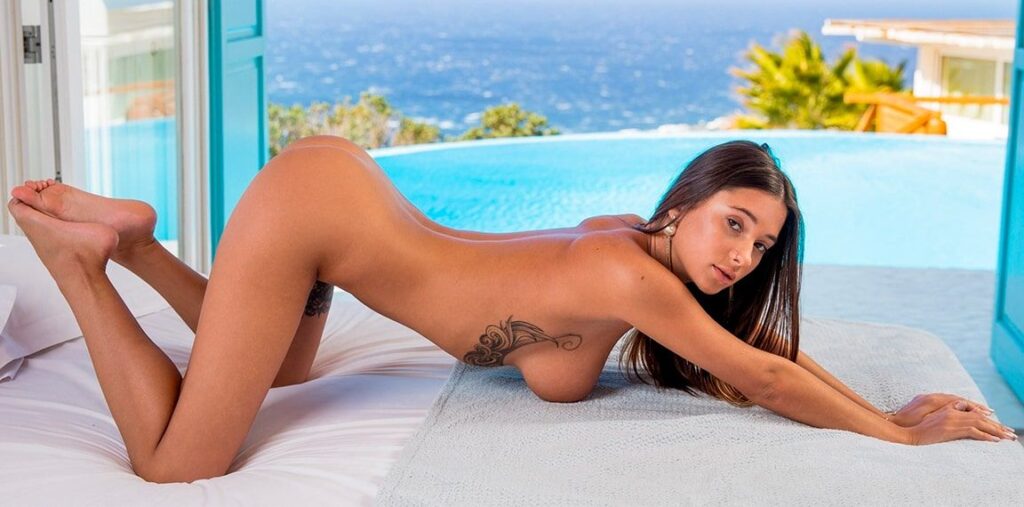 One of the most beautiful Russian pornstars, Liya Silver, always wanted to share her beauty with the world. She worked as a glamour and photo model while she was a student and made some fascinating shots. In May 2018, Liya decided to start shooting porn movies and soon her pretty face became recognizable everywhere.
Liya was born as Kristina Shcherbinina on February 25, 1999, in St. Petersburg, Russian Federation. She has an amazing, tanned body with 34D boobs. Liya has several tattoos and they all have a special meaning. She also has a piercing on her left nostril.
11. Gabbie Carter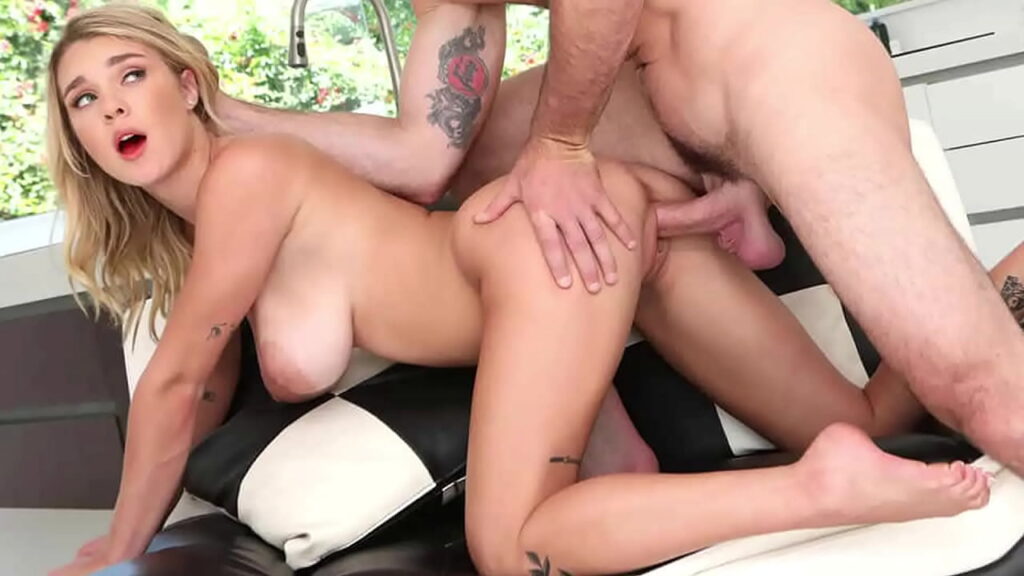 Gabbie Carter owns a pair of impressive 32DD boobs with the biggest areolas I've ever seen. Her sexy body is slim and decorated with wolf tattoos that symbolize her free spirit. This blondie was born on August 4, 2000, in Austin, Texas.
In her high school years, Gabbie was a very slutty girl. She fucked over 40 guys before even entering the porn industry at the age of 18. Before her career started, Gabbie worked as a hostess in restaurants. Her mind was torn between two very different career paths – military and adult industry. And her fans are very happy she chose porn.
She was very busy from the beginning, shooting multiple scenes in the first couple of days. That was in April 2019. Still, this young pornstar also has more ambitious plans. She wants to go to college and study sociology, and she is also thinking about launching her own company for couture lingerie.
10. Sara Retali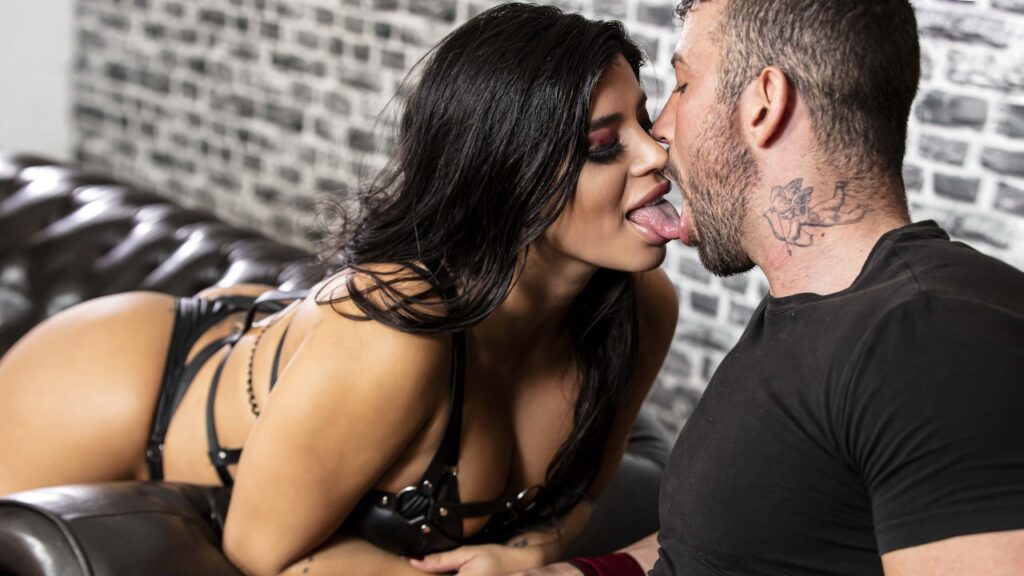 Sara Retali is one of the hottest newcomers in 2022. This voluptuous Latina was born in Caracas, Venezuela, on October 26, 1990. Her 5'3″ body rocks a pair of huge round boobs and a nicely shaped big ass. Her curves are absolutely delicious and they look amazing while she sways her hips dancing.
Sara loves dirty talk and foreplay, as well as exploring every part of her partner with her long and skillful tongue. This Venezuelan started performing last year and she has already amassed a large number of movies, and even more fans. You can see many movies that feature this babe on sites like Brazzers, and there are many stimulating photos on her social media, where she is also very active.
9. Angela White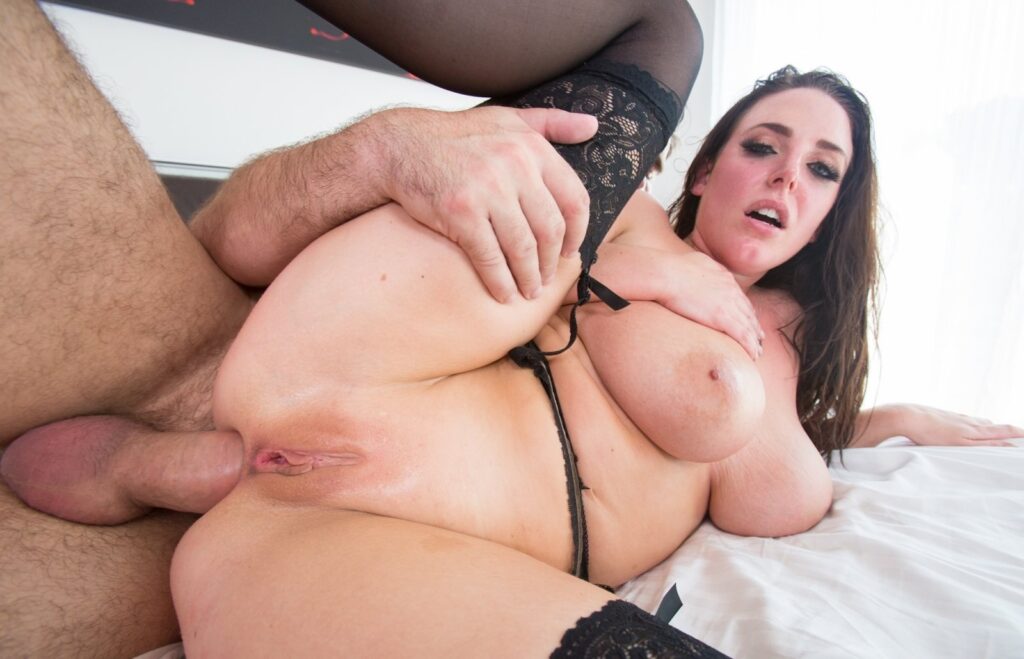 Angela White is famous for her extra big, all-natural H-cup boobs. Angela was born in Sydney, Australia, and she says that fans love her Aussie accent. Even though she moved to a farm in Victoria, US when she was eight, Angela went back to Australia and finished high school and college there. In 2010, she graduated from the University of Melbourne with First Class Honors in Gender Studies.
This beautiful pornstar has been in the adult entertainment business since 2003 when she was 18 years old (she was born on March 4th, 1985). She was still a high school student at that time, but that didn't stop her from working as a nude model. Her photos made it to various magazines like Penthouse and Cosmopolitan, and even to the front page of the daily newspaper The Sydney Morning Harold. In 2011, White shot her first blowjob and boy-on-girl hardcore scene. Two years later, she launched her own site. Today, she runs her own production company called AGW Entertainment B.V. Since then, the only movies she appears in are those made by her company.
8. Charlotte Sins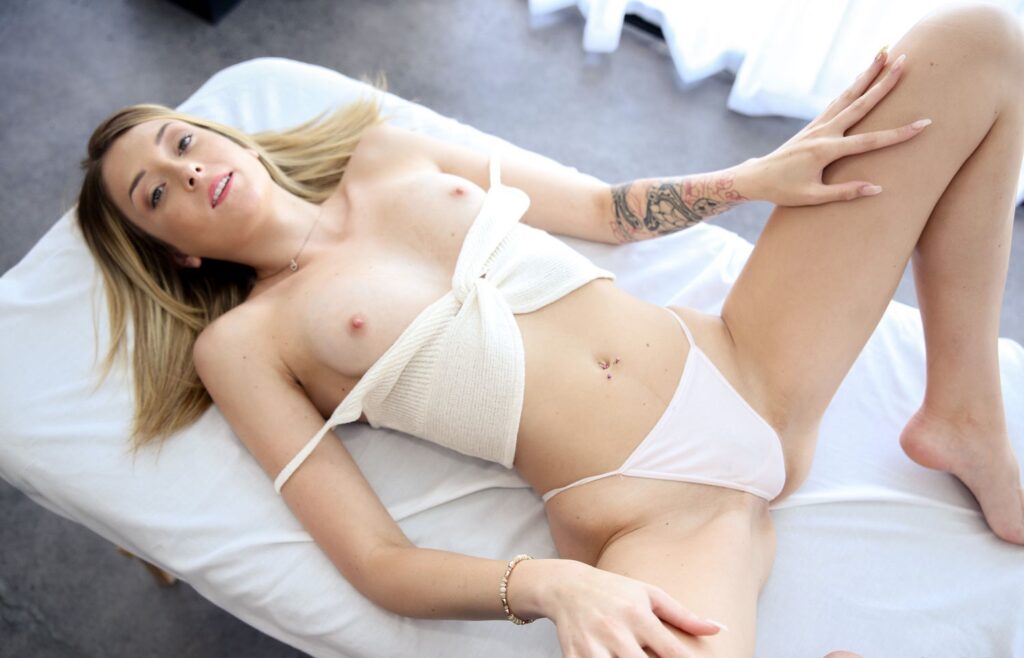 Intelligent and aware of her sexuality, Charlotte always knew how to get what she wants. Even though she worked as a part-time fashion model in high school and college, she had the same problem as any student – the lack of money. So, she started selling her panties while she was in college. That progressed to selling her photos and videos, and she eventually started web-camming in January 2018. That made her consider entering professional porn production, so she started researching how to get in, and, in June 2019, her career officially started.
Charlotte was 23 years old when she had her debut (she was born on August 15, 1996). Being a gorgeous young blonde, she had no trouble getting the attention she wanted. So far, Charlotte has shot boy-on-girl and lesbian scenes, as she is looking forward to filming interracial action gangbang, and some fetish content.
7. Bella Luna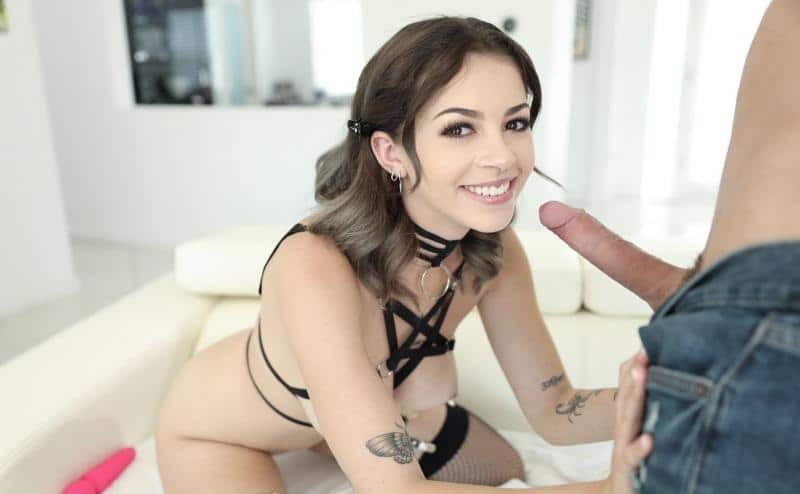 This naturally curvy brunette appeared in late 2020 and won the admiration of many porn lovers. Bella Luna is a busty model, pornstar, and content creator. Her portfolio includes threesomes, scenes in stockings, POV, and family taboo stories.
She also did a lot of massage porn for sites like Kinky Spa and Nuru Massages. You can even see this beautiful inked pornstar in virtual reality in movies by WankzVR. Bella is very active on various platforms, including FanCentro and OnlyFans, where she posts a lot of stimulating photos and videos.
6. Eva Elfie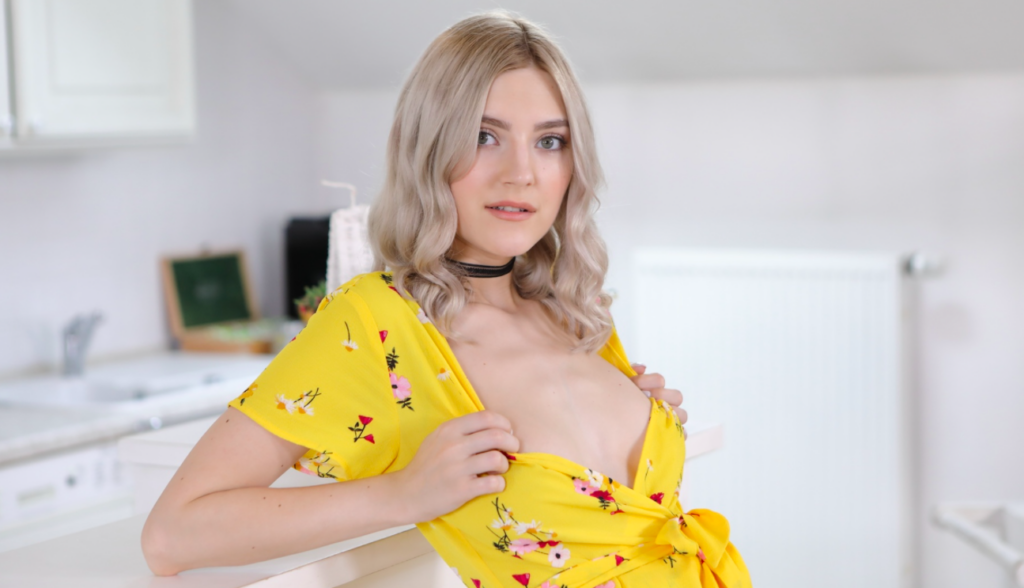 Russian babe Eva Elfie had clear motives for entering the porn industry – she is horny by nature and she also wanted money, traveling, and more fun. As a blonde 18-year-old, she had no trouble finding work in porn in late 2018.
In the beginning, Eve performed under different stage names, like Lady Jay, Tiny Teen, Tieny Mieny, and Brigitte, but then she decided on Eva Elfie. Her first scenes were all solo shots where she played with various toys. Later she began filming lesbian movies, and finally, she showed how skillful she is at handling big dicks by doing a hardcore movie.
This beautiful blonde has a dreamy look that immediately lets people know she is Russian. She was born in the east, in the Syberian area, on May 28, 2000. Now, Eva is living and working in Moskow.
5. Codi Vore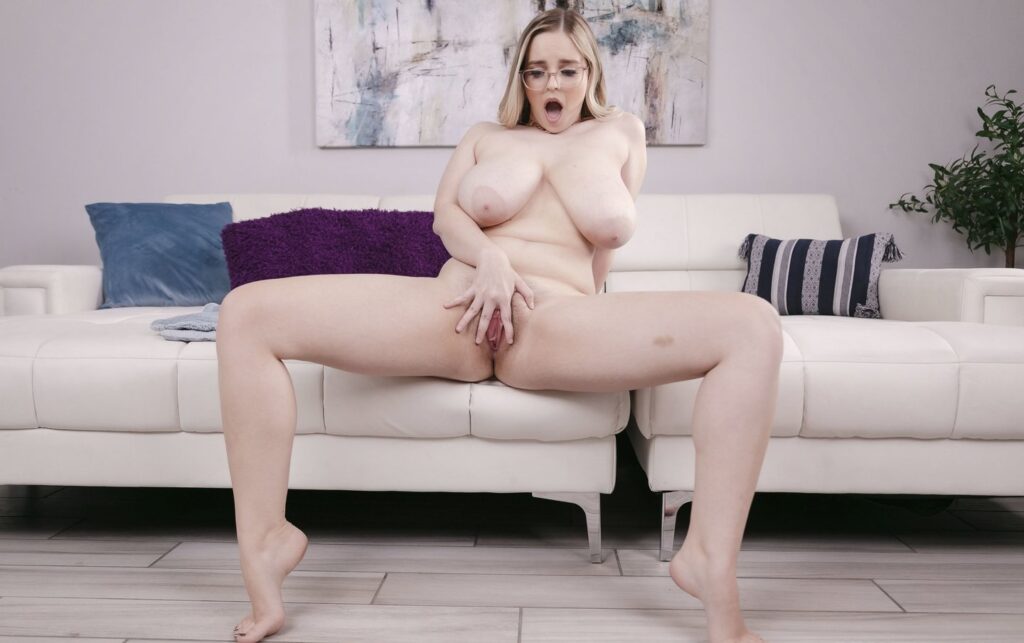 When talking about the cutest pornstars, I cannot skip Codi Vore. She has the face of a doll, with big sad-looking eyes and full juicy lips. This blondie has a sexy voluptuous body with impressive all-natural 32L boobs and a big bum. She is perfect for those who like to see girls who have a little more meat on their bones.
Codi (or Cody Vore) was born and still living in Las Vegas. When she was in her early twenties, she didn't know what she wanted to do. So, in 2017, she started web-camming with the encouragement of her roommate, also a cam girl.
Codi is very open-minded and she believes that sex is one of the most important things in life, as it helps her discover herself, get stress relief, and much more. So, working as a cam model, and starring in a porn movie a year later, came as a good adventure for her. Since her official debut in 2018 (when she was 22 years old), Codi shot a lot of passionate movies, as well as some fetish content with BDSM.
4. Blake Blossom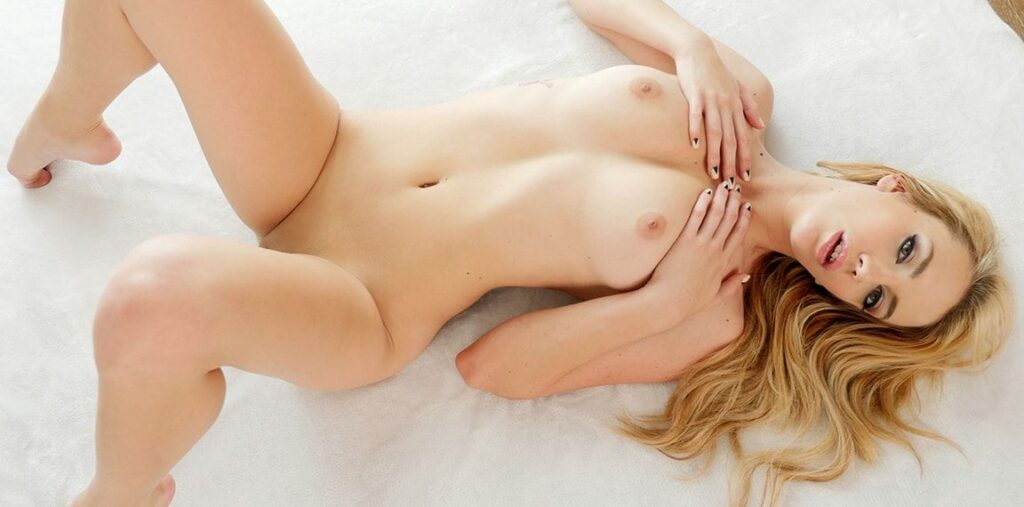 Growing up in a small town in Arizona, surrounded by Mormons didn't stop Blake Blossom to be curious about sex. This pretty blonde never allowed the conservative society to influence her mind. She had sex with over 40 guys before entering the porn industry, so she had a lot of experience. However, she admits that she never had an orgasm with any of them. So, shooting porn was just the kind of change she needed.
Born on February 14, 2000, Blake was 20 years old when she started doing porn in March 2020. Before her debut, Blake had carefully thought about every aspect of her porn career, she researched how the industry functions and learned all she could about work conditions, as she also had several meetings with an agency representative. And when a busty blonde plans her career like that, she is bound to be successful. Blake was named the Pet of the Month of Penthouse magazine in December 2020 and got several nominations for notable industry awards.
3. Bunny Colby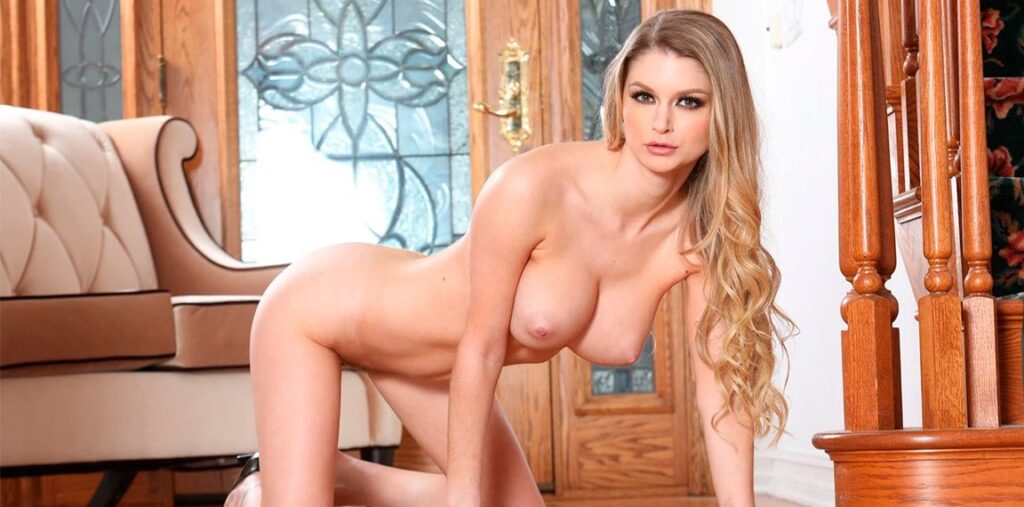 Bunny Colby was a nerdy girl in high school. A lot has changed since then, and she is now a very active and very attractive pornstar, cam girl, and glamour model.
Bunny was born in Pennsylvania and she spent her childhood there. Later, she moved to Massachusetts, then to Austin, Texas, and then again to Portland, Oregon. It was her boring 9 to 5 job at the Department of Human Services in Portland that got her wishing for more.
So, Bunny started doing webcam shows in April 2017. She didn't know if camming and porn are for her, but she decided to try and see if she is that slutty, and, luckily for us, she is. In September 2017, she shot her first scene under the stage name Nadya Nabakova. She chose that name because everyone always thinks she's from Eastern Europe, so she embraced that. It must be because of her looks – long blonde hair and fair complexion.
2. Alina Ali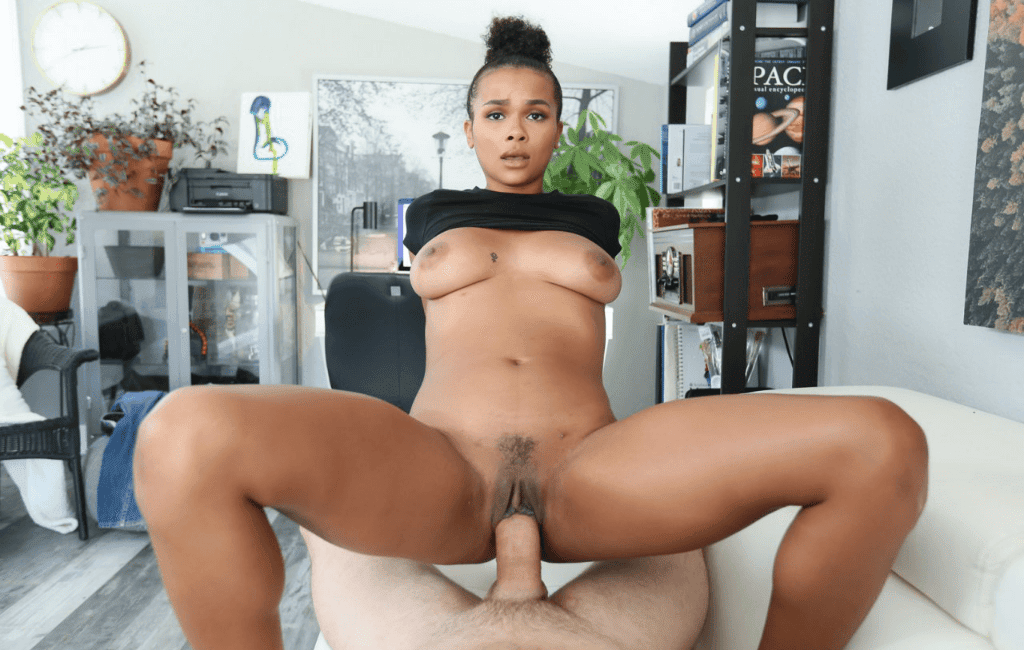 Ebony babe Alina Ali is one of the most beautiful young pornstars. She was born in raised in a Creole family in a small town near New Orleans, Louisiana, on July 27, 1998. From a very young age, Alina was a real rascal, always doing whatever she wanted. With an open and curious personality, Alina fits perfectly into the porn world.
She has always admired nude models and actresses and wanted to become like them. That is why she applied for a porn gig, jumped on her first flight to go to Los Angeles, and shot her first porn movie in 2019. Alina shot both straight and lesbian movies, as well as threesomes, and is the heart and soul of many ebony porn movies. When she is not fucking, Alina loves dancing and doing yoga, as well as going to music festivals.
1. Jia Lissa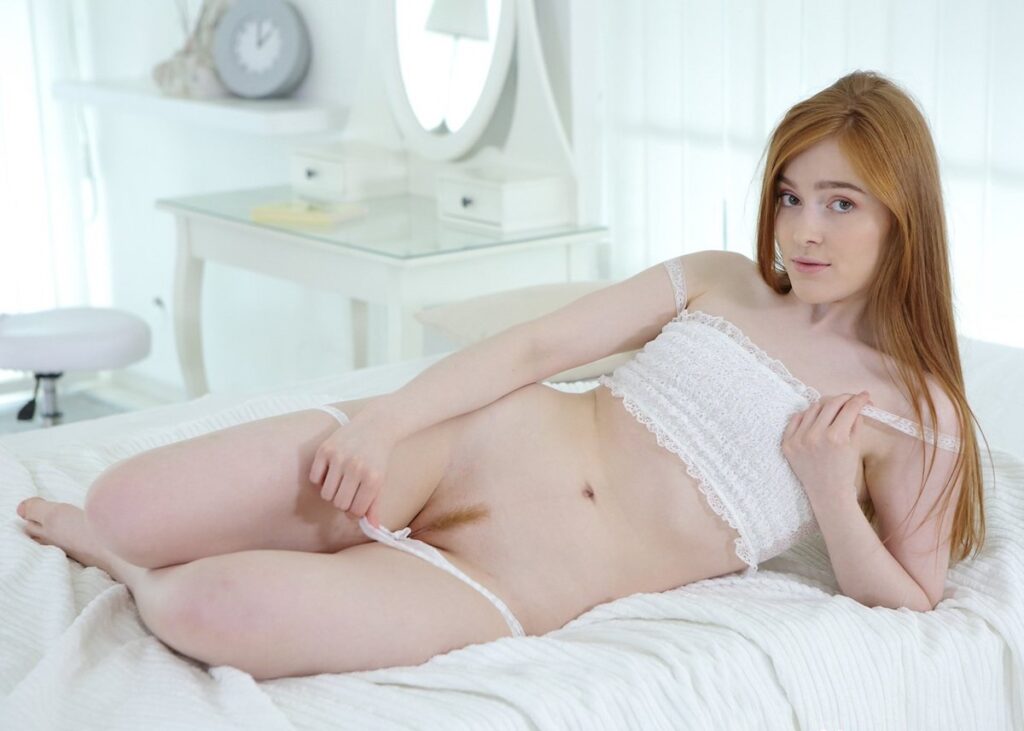 Porcelain milky skin, natural red hair, piercing green eyes, petite body, and flat 32A tits – no this is not a dream, this is how Jia Lissa looks. With an amazing talent that matches her fantasy looks, this Russian pornstar was bound to make waves. And so she did!
Ever since her debut in late 2017, Jia has been filling the collection of many famous European productions with her sizzling scenes. At first, she made only solo and lesbian scenes, but you can now see her sucking hard cocks with those pretty little mouths and riding them while her round white booty jumps up and down. Also, Jia now films for American productions as well, Brazzers among others.
Born on September 1, 1996, in Moskow, Russia, Jia currently lives in Budapest, Hungary. Her primary love is music and she would like to fully dedicate herself to it one day. She also wishes to travel as much as she can.
Which country has most beautiful pornstars?
Looking through this list of most beautiful pornstars, you will notice that many of them come from Eastern Europe. Czech, Ukrainian, and Russian models are always popular, but they also have that special kind of beauty. Of course, to say which country has the most beautiful pornstars would depend on what your preferences are. The answer is changes based on whether you like blonde and fair-skinned girls, Asian models, ebony babes, Latinas, or some other ethnicity.
Why are pornstars so beautiful?
Asking why pornstars are so beautiful is like asking why the sun shines so brightly. The girls who perform are stars, and it is natural that they look like stars. The competition in the adult entertainment industry is big and everyone is fighting for attention with what they got – great looks and amazing skills. The hottest and most talented performers get the spotlight, and with it, the most opportunities for work. And that is why we see only the most beautiful ones in the best porn productions.