Ultimate tips for solo play: stroking your cock
Is there anything better than coming home from a hard day of work and taking out your cock for some relaxing solo session? There is almost nothing as natural as pulling and stroking your dong. Still, there is always some room for improvement. These tips for stroking your cock will do exactly that. They will show you how to bring your masturbation to another level.
Improve at stroking your cock
Everyone has a preferred way when it comes to wanking. No one knows better than you what feels good to your dick. However, you might want to try something different occasionally. There are various ways of stroking your cock. You can use your whole hand for tugging or only three fingers. Simple rubbing can also will incredible. Try twisting, pulling, anything that works for you.
You can also switch positions. There is no reason always to jerk off while lying, standing, or sitting. If you like fucking doggystyle, you can get on all four and masturbate in that position.
Of course, the solo play does not need to come down to only stroking your cock. You have two hands – use them! Pull or massage your balls while you tug your dick. Don't forget about your asshole, either. Massaging your prostate or taint (perineum – the spot between your balls and your asshole) while stroking your dick can feel very arousing.
There are also alternatives to stroking your cock by hand. You can use toys like automatic strokers, Flashlights, or cock rings. Penis vibrators are also a pleasant way to make yourself cum.
There is more to porn than just videos
Going to your favorite porn site for some mental stimulation is always entertaining. Still, porn can come in many forms. You can try some erotic literature, and there are even some fantastic porn audiobooks.
The tremendous amount of pornography available on the internet 24/7 does not mean you should always rely on it. Sometimes it is nice just fantasizing while you are stroking your cock. It's a mental exercise that prepares not just your body but your mind too for what's to come. There is no limit to one's creativity, so you can imagine hotter and kinkier scenarios than you can find in any porn movie.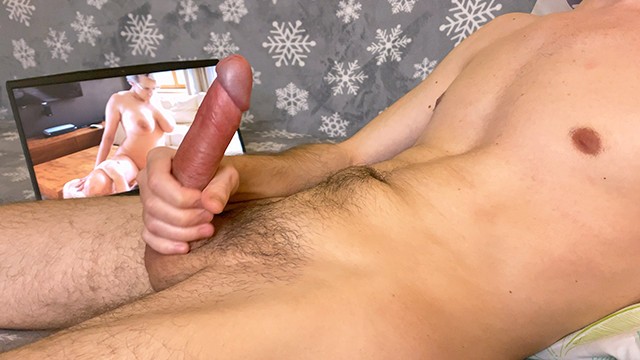 Use your non-dominant hand for stroking your cock
I'll say it again; you have two hands! Switching your hands can bring different stimulations to your dong. Your dominant hand, the one that you usually use for jerking off, is used to the same moves, and it might even do them mechanically. On the other side, your non-dominant hand can break the routine, as it will move in a way your cock is not accustomed to.
The "Stranger"
This technique consists of sitting on your hand until it falls asleep and then using it for stroking your cock. Jerking off with a numb hand will make you feel like someone else is giving you a handjob. It might seem inconvenient to do this, as it is hard to move a numb hand, but that can only be another plus. You probably won't be able to move it in the usual way, so it will bring new stimulations to your dick.
Move your hips while stroking your cock
For some men, moving and thrusting is an instinct when they jerk off. For others, moving the hips is something they forget since there is no other person to thrust. However, moving your hips like you are plowing someone's tight hole will make wanking even better. Move your hips in a circular or back-and-forth motion, faster or slower – whatever suits you. You can try bringing your body to your hand instead of bringing your hand to your body.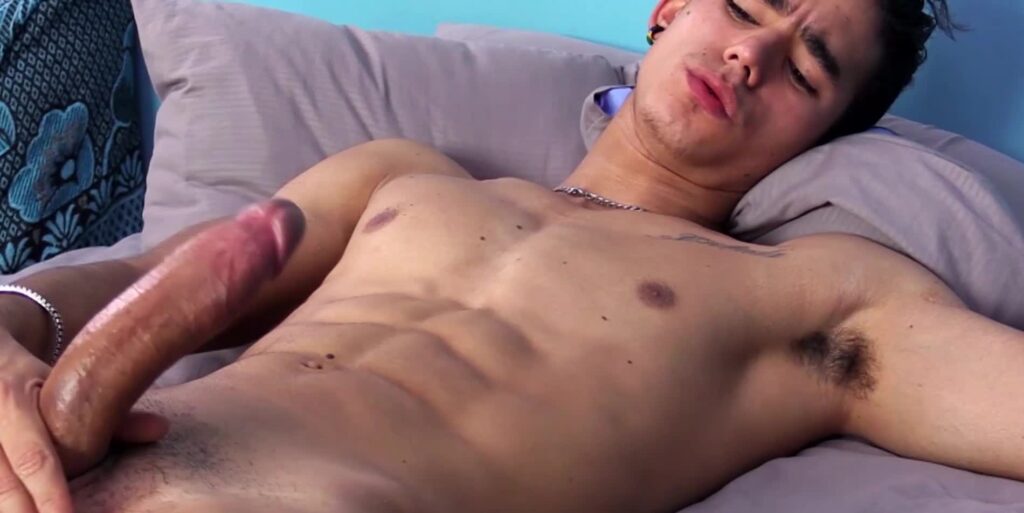 Prolong the pleasure with edging
Except when I don't have the time, taking it slow and thoroughly enjoying the solo play is always my preference. Starting with light strokes lets me build up the arousal, which eventually leads to a much better orgasm.
There is another technique that you can try if you want to make your pleasure last longer. It is called edging, also known as the start-and-stop method or orgasm control. It consists of stroking your cock till you get to the edge of cumming, and then stopping entirely and not allowing your dick to spray the sticky juice. Then, your start jerking off again and stop at the verge of an orgasm again. You can repeat this cycle as much as you want, and in the end, the build-up excitement will explode in a fantastic orgasm.
There is another benefit of edging, along with the longer pleasure. If you practice it often, you will be able to delay the cumming when you fuck as well. As a matter of fact, edging can help people with premature ejaculation last longer in sex.
Make it wet
Don't forget the lube! And no, a lotion will not suffice because your skin will absorb it will all the rubbing. And neither will those few drops of cum that drip before you come, no matter how hard you try to smear them over your dry cock. You know how unpleasant it can be trying to pull the dry skin on your cock. It can even make your dick less sensitive or lead to a rug burn. You should try water-based sex lubricants or pure coconut oil. Even though vaseline is not recommended for fucking as it can break down condoms, you can safely use it for a solo session.
Pump up your heart rate
There is a reason why you are often horny after working out. Exercising releases hormones that make you feel good, improves blood flow, and relaxes your pelvic floor muscles. In other words, it gets your body in a perfect state for some steamy wanking. Jerking off after a workout can make you cum so hard.
Avoid the death grip
No matter how much you enjoy hardcore fucking and jerking off, squeezing your dick too hard is not a good idea. If you do it often, your cock will become accustomed to hard squeezes, and it won't respond to less intense stimulations. That includes even blowjobs and fucking that are not as extreme as the hard strokes your dick is used to. So, try not to go overboard with stroking your cock too hard. Instead, mix different moves and lighter and harder touch.
There's nothing like good self-pleasuring
Not only that stroking your cock brings you immense pleasure, but it is also good for your health. It makes your mood better, relieves stress, improves sleep, and lets you release sexual tension. Some researchers suggest that that regular masturbation can reduce the risk of prostate cancer. Not to mention that jerking off can improve your sex skill and make you last longer.
So, take out that big cock of yours and stroke it, rub, flap it any way that feels good. Try out some of these tips if you really want to improve your solo play. Experiment with moves, toys, and techniques, and enjoy yourself!
Stay updated with our NaughtyBlog and catch up with the best Porn Discounts and Porn Deals on the market!