How to give your man the best blowjob?
Before we go deeper into the topic of how to give your man the best blowjob, let's get one thing straight (or gay). The "every blowjob is a good blowjob" is a myth! Yes, guys always feel lucky when you go down on them, but that feeling can change as soon as you start ungracefully munching his cock. To avoid those unpleasant situations, check out these tips. They will help you learn all the best techniques to make your man cum with nothing but your lips and flexible tongue.
Just imagine: you're on your knees in front of your boyfriend, sucking his hard, massive cock, twirling your tongue around it. He's going out of his mind, breathing heavily, trembling, and having trouble standing. Soon, he can't help but cum hard in a screaming orgasm. That is what you will be able to do with these tips for giving the best blowjob.
Tease him
Even if you want to suck your man's huge dick as a part of the foreplay, remember that there can be foreplay for the blowjob as well. Tease him by gently touching or lightly stroking his cock. Don't go straight for the dick; start by making a trail of kisses from his mouth, over his neck, chest, and belly, and slowly come near his crotch, and then stop. This will drive him crazy. When your head is inches away, start talking dirty to him. Tell him what you're about to do or how eager you are to take his massive cock deep inside your mouth. You can also kiss his dick before you take it all in.
If you use all of these steps, he will be entirely electrified. However, it might be too much to use all of them every time. You can try using a few of them and varying the combinations each time you suck his cock.
Pay attention to the most sensitive spot
The frenulum (the underside of the tip) has the most nerve endings and is the most sensitive spot on a penis. This is the spot where the shaft connects to the glans. When your man's dick is in your mouth, use your tongue to circle around the tip. You should know that even the regular in-and-out sucking will trigger this sensitive place.
You can also stimulate the frenulum before you take it in your mouth. Stick out your tongue and lick the cock from the base to the tip. Your tongue will lightly touch the best place, making your stud eager for more of it.
The best technique you can use to stimulate the frenulum is flicking it. Use the tip of your tongue to apply a gentle flicking motion to this spot. Flicking can go in all directions, up-and-down, side-to-side, in circle, or you can combine all these moves.
Explore his body
Another highly sensitive place on a man's body is the perineum, the area between the balls and the asshole. It's close to the cock, so you can spontaneously move from one place to another. Stimulating this area will multiply the pleasure because the nerves located here carry all the sensations to both the cock and the ass. You will give him double pleasure with one move!
Don't forget his balls
Deepthroating and licking his cock is guaranteed to give him a mind-blowing orgasm. However, it will feel even better to pay a little attention to his balls, too. Pull them gently up and down with your hand while you simultaneously work his dick with your tongue. Or, you can try putting his ball (or two if you can manage that) into your mouth.
Make eye contact
Most men find it irresistible when you look them in the eyes while you have their big cock in your mouth (or just before you devour it). Eye contact will make his pleasure more intense, as it can make you look more seductive and submissive.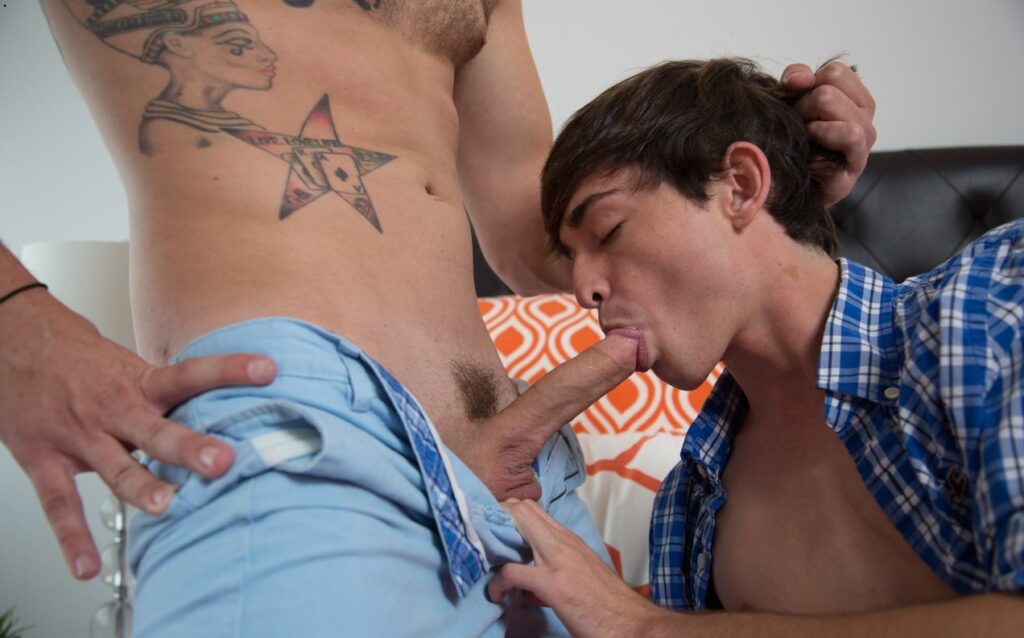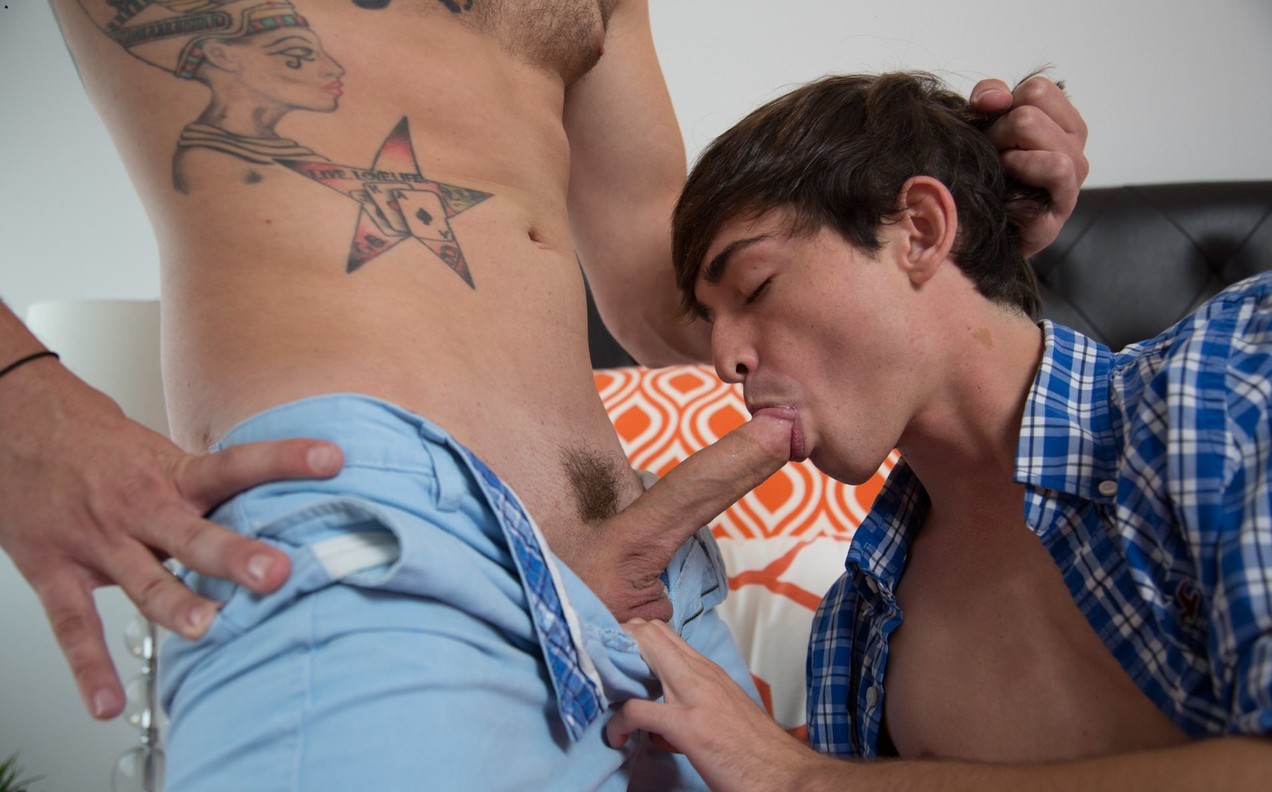 Use your hand
If your boyfriend is well hung, or you just have a strong gagging reflex, you can take the base of his cock with your hand. That way, it will be easier to control how deep it goes, without leaving out any part of his dick.
Vacuum is sexy
Try sucking in all the air while you hold his dick in your mouth. That will pull your chicks inside and tighten the space around his dick. The vacuum suction will feel great, but you won't want to do that all the time. It would be tiring to hold your breath like that for long. Plus, it's more interesting to him when you do it only seldom.
Anti-gagging tricks
Although some people love to gag, it can sometimes get in the way of a good blowjob. To avoid gagging and still give your man the feeling of deepthroating, you can use the roof of your mouth. Direct the tip of his cock to hit the roof of your mouth. Or, you can put it under your tongue. In both cases, the tip of the dick will hit into something, which will additionally stimulate it.
Don't hesitate to make noise
Obviously, you won't be able to talk when your throat is packed with your man's meat. Still, there are other ways to let him know that you are enjoying this nasty activity. Feel free to make licking, slurping, kissing, and moaning sounds. Just make sure they don't sound fake. No one wants to hear loud sound effects that don't happen naturally. Making noise means not suppressing the natural sounds, and only moan if you feel like it.
Focus on yourself
Don't think about giving the best blowjob. Think about how any of the acts you're performing feel to you. It's important that you enjoy as well. So, experiment with movements, do what feels natural at the moment. Explore his cock and trust your own sensation.
Bring in variations
Doing the same thing every time you give your man a thorough sucking will get boring over time. It's okay to have preferences and to stick to what you two know and love, but make sure you add a couple of new moves every now and then. For example, if there are five things that your man adores, don't do them all at once every time. Instead, do two of them in one hot session, and some other two another time, and make combinations.
Avoid teeth
This one is a no-brainer. Down there, everything is super sensitive. That is great when you want to make your man cum in no time, but it won't feel so good if you accidentally scratch a hard cock with your teeth. Unless, of course, your guy likes rough play.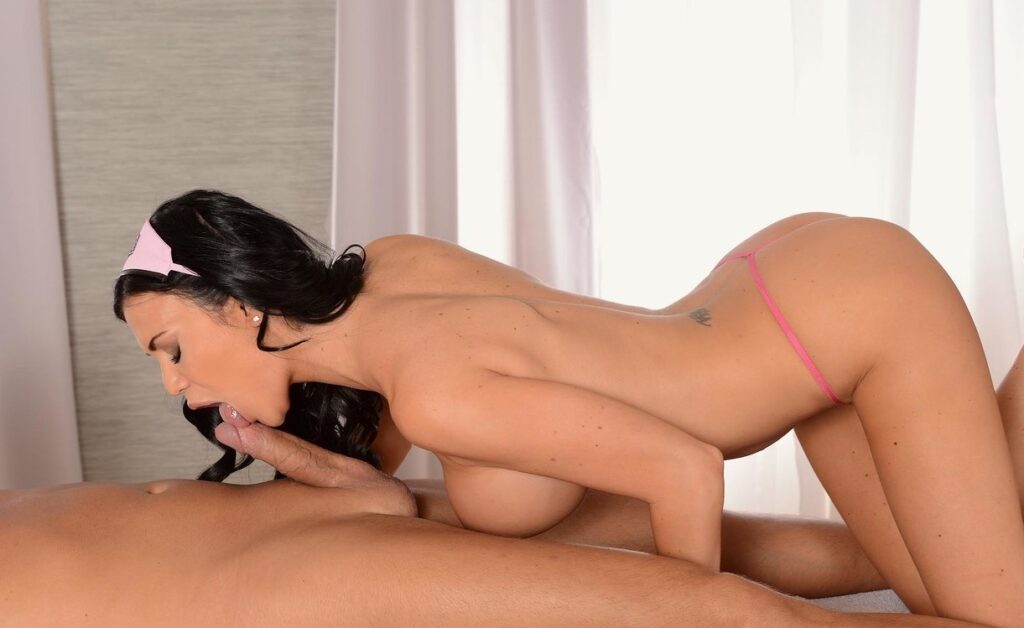 Listen to his body
To know if your partner is enjoying, pay attention to his reactions. The body doesn't lie. Even though some people have barely visible reactions (compared to those who moan loudly and wiggle their bodies), you will always notice some changes. Arched back, clenched fists, curled toes, tilted head – these are all good signs. Moaning or groaning is also a sign your sucking is going in the right direction. Listen to his breathing. If he's panting, or his breaths are heavier, shorter, or quicker, it means he is going out of his mind from pleasure. If you can't notice these or any other reactions, it probably means you should change your technique.
The important thing is to find what your lover likes. Some guys love deepthroating you until you gag. Some enjoy it when you play with and suck their balls. Others love when you stick your finger into their tight ass while you're giving them a blowjob. Try many different kinks and talk with your man about them. Watching his body's reactions and getting feedback later will help you learn what turned him on, and what you shouldn't perform again.
Spit or swallow?
The ever-lasting dilemma… Most men like cumming in your mouth and watching you swallow it. There is something very raunchy about filling your lover's thirsty mouth with your sticky juice. Still, there are others who don't care about whether you swallow their load or spit it. Some are even turned off by swallowing. A messy facial is also one of the solutions. The bottom line is, there is no right or wrong answer to the spit-or-swallow dilemma, as everyone prefers something different.
Give your man the best blowjob for the right reasons
Sucking your man's big hard cock should be fun and arousing for you too. However, it won't be if you do it for the wrong reasons. If you only do it because you want him to go down on you later, and not because you actually like sucking, then you probably won't be too excited about what you're doing and will likely do a lousy job. Although he should return the favor, that shouldn't be your only motivation. It's even worse if you do it because you want something from him, or because he insisted, especially if you don't feel like doing it.
The point here is that you should feel enthusiastic about everything the two of you do. This goes for every other activity as well, not only for blowjobs. There is no point in doing anything and hating every moment of it. That would be unpleasant for both of you.
So, enthusiasm is the key! Being excited about giving your man a blowjob will turn him on even more. Just imagine how you would feel if your partner seemed uninterested while fucking you. That would be a real turn-off for you, wouldn't it? Well, it's the same with blowjobs. Enthusiasm is sexy, and it will assure your man that you're enjoying as well.
Practice leads to the best blowjob
It doesn't sound revolutionary saying that practice will get you anywhere. That is a way for your skills to grow. Plus, it will give you more confidence. Your guy will find it hot if you look like you know what you are doing. How wouldn't he, when confidence looks a lot sexier than the alternative – nervous and awkward jitters.
You can, of course, practice on your man. I seriously doubt he would mind getting blowjobs more often. But if you want the best blowjob of his life to be a surprise, you can always use a dildo. This way, you can try many different moves to see what feels more natural to you. Plus, you'll be controlling the dick (dildo), so you can go as little or as much as you want. Keep in mind that the depth of the mouth is about 3 or 4 inches, and average cocks are longer than this, so it is entirely normal for your gag reflex to activate. That's why practicing on a dildo is excellent for learning how much you can take, and for learning to suppress this reflex.
Now that you've covered all the theoretical knowledge, it's time to try all of that yourself. So, go out there and find yourself some nice, huge cock for sucking and give him the best blowjob!
Stay updated with our NaughtyBlog and catch up with the best Porn Discounts and Porn Deals on the market!