How to comfortably have sex in a bathtub?
Have you ever had dirty fantasies about banging someone in a bathtub that made you hard at the first thought of it? I know you have. Who doesn't like a picture of two wet bodies mingled up in a hot bubble bath? Just imagine your partner's skin sparkling from all the water drops mixed with fresh cum. However, when it comes to actually having sex in a bathtub, things tend to be a little trickier. It's very slippery and there isn't a lot of space for maneuvering. Plus, the water is likely to end up in your mouth.
The bathtub seems like a great place for long foreplay where you give a mean handjob to your partner until they can't do anything but beg you to fuck them. Even if you prefer getting straight down to business and just enjoy some hardcore fucking, the bathtub will make that experience much more intense.
Whatever your kink is, you've probably stumbled upon some logistic problems of fucking in a bathtub that ruined the mood. Sure, people in the movies can just fill the tub, get their smoking bodies in, and start fucking their minds out, but this is real life.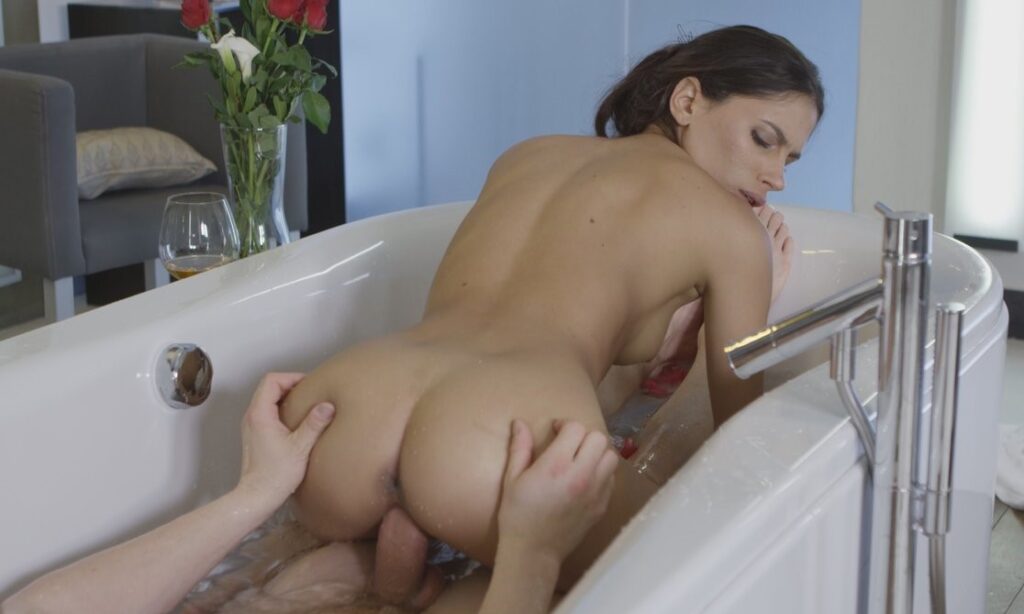 Preparing for the sex in a bathtub
Before I get to the best bathtub positions, let's see first what else you can do to make this experience the best it can be.
The first thing you should do is set the right water level and temperature. I am sure things will get hot when you start fucking, but that doesn't mean cold water is a good choice. Remember that the water will eventually become colder, so you might want to fill your bath with water that is a little warmer than you want it to be (but not too hot, of course, you don't want to burn your skin). Plus, the hot water will help blood circulation. When you're turned on, more blood is flowing to your genitals, which means the hard cock will be even harder, and the clit will be more sensitive to the touch. Is there anyone who would pass a sensation like this, that guarantees screams of pleasure that echo in the whole bathroom?
As much as the hot water feels nice on the skin, you don't want to go overboard with it. Keep in mind there will now be two people in the tub, so the water level will rise more than when it's only you in there. Besides, you sure won't be lying still when you have sexy company. All that naughty squirming during blowjobs, fingering, or hardcore fucking will spill more water from the bath if it's full, so you might want to keep the water level a bit lower. That will also be useful if you want to get down on your partner. Unless you are a professional diver, breathing underwater is not a simple task when your mouth is full of someone's huge cock or when you stick your tongue into someone's tight pussy.
Make it wet enough
You might think that being in the water will allow the dick to go in and out smoothly because everything is wet, but it's actually quite the opposite. The water will wash away all the natural lubricants. That means even the wettest pussy will be left dry when the water washes the vaginal secretion. Also, all the juicy cum will dissolve in water as soon as it bursts out. You can guess that this would make plowing a tight hole very uncomfortable. Even if you like a little bit of pain, I suggest you fulfill that desire in some other way. When you want to comfortably have sex in a bathtub, dryness is something you will want to avoid.
No matter what type of sex you have, make sure it can all go smoothly. Whether you want to stick your dick into your partner's gaping ass or pussy, or you want a huge hard cock to stretch your holes, it's crucial to make them wet enough.
If water is not wet enough, what is? Lubricant! And not just any lube. You will want to use silicone-based lubes. The ones that are water-based and oil-based will quickly wear off, so they are of no good use. Water will also wash silicon lubricant, but it will last much longer, giving you enough time to get to that screaming orgasm.
The silicone lubricant is extremely slippery, so the pussy will be all greased up and ready to take in even the biggest cock. Feel free to use a lot of lube as it will make things nastier.
There are even some lubricant shooters you can try. Use them to inject the lube deeper into the hot hole that's about to get plowed. Not only that it will make the pussy (or asshole) wet and ready, but it will also allow a dick (or a toy) to get in even deeper. Just imagine how it feels to get all the way in!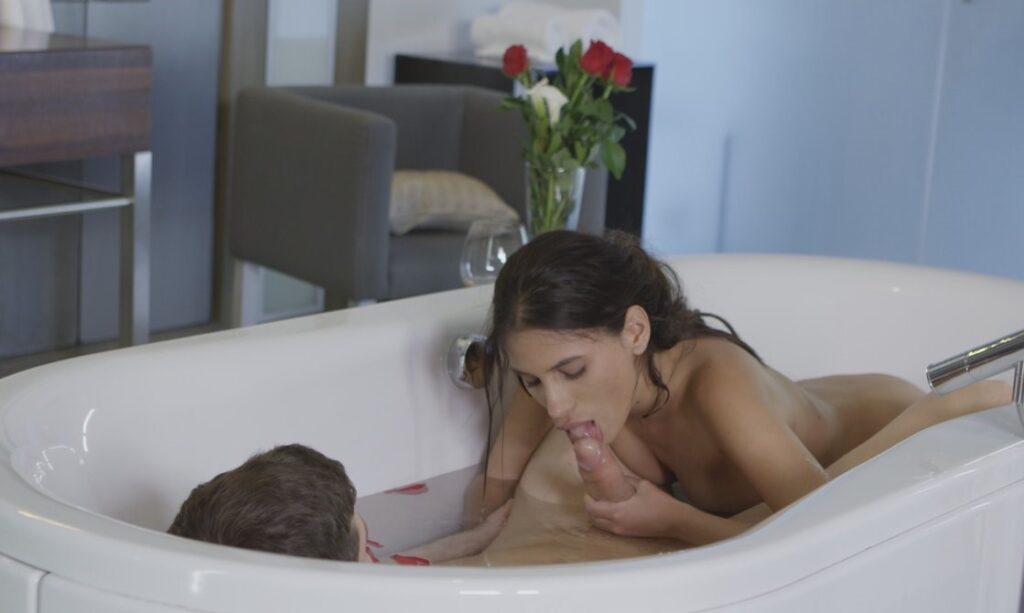 Try these positions for sex in a bathtub
Do you like when your partner is down on all four and you spank them and stick your fingers deep in their petite hole? Or do you prefer lying on your backside while your partner is riding you? Maybe you'd like to do that in a bathtub. If you set the scene right, you can perform your favorite positions in a bathtub without any problems. Some positions are generally more practical for banging in the bath. These will allow you to fit comfortably in a tub with another person and still have enough space to move.
If you've already tried missionary in your bath, you know it's not very practical since most bathtubs are not wide enough for a person to stretch and have a stable hold (if you have a tub that big, then lucky you). So, this may not be the hottest position for sex in a bathtub.
Doing it in doggystyle is also possible. Still, there is a pretty big chance to slip on the wet surface of the tub. Keeping your balance while you're bending over and holding on your arms so someone can pierce your hole with their boner it's complicated enough even when you're not in the water, but here it takes some real multitasking skills. The same goes for when you're balancing on your knees trying to fuck some hottie hard and not fall. And multiple waves of ecstasy only make it harder.
Cowgirl
Classic cowgirl (cowboy) will work well in any size bath. The person with a hard cock (or a strap-on) should lie on their back (make sure the water level is low enough so the head is above it) and the other person should spread their legs around the hips of the first person and just put that hard dick into their readied hole. If the rider gets uncomfortable on the knees, they can try hugging their partner around the hips with their legs.
I love this pose because, whether you perform it in the bath or on dry land, it allows you to maximally feel the other person. No other pose will get the cock that far inside the hot pussy. It goes all the way in and hits the best spot, producing waves of eye-rolling, toe-curling, back-arching orgasms.
Reverse cowgirl
You can also try the reverse cowgirl. The principle is the same, but in this case, the person on the top faces away from the person on the bottom. The cock will stick in deeper if the rider arches their back and holds up their sexy butt a little. Plus, it gives the person on the bottom a perfect view of their partner's asshole!
In both classic and reverse cowgirl positions, jumping up and down over a hard dick is much easier if the person on top holds to the sides of the bathtub. That gives them enough stability so there is less chance to slip during sex.
Backseat driver
The backseat driver is, in my opinion, the best pose for sex in a bathtub. It's similar to the reverse cowgirl, with a slight difference. Here, the bottom person is not lying down, but sitting, with the other person in their lap. This pose is very practical for those who don't have the luxury of having a big bathtub. This way, there is enough space for both people to fit in comfortably. Plus, you can fill the tub with more water than you could for the missionary or the cowgirl.
A few more tips for sex in a bathtub
There is nothing like a hot, steamy bath to relax every muscle in your body. Bathing together and washing one another can wake the dirtiest thoughts. Use this opportunity to fully explore the body of the hottie you're with. The skin and the tissue become more sensitive in the water, so every touch is more stimulating. Biting, nipple-pinching, balls-squeezing – all those nasty acts will feel more intense and make your partner moan like never before.
Hands go all over each other's bodies, fingers enter tight holes and pussies, and boners stick hard in them. Next thing you know, there is a load of cum in the water. To make sure you get to that ending, you should make sex in a bathtub comfortable enough by using a lot of silicon lube and fucking in more practical positions.
Stay updated with our NaughtyBlog and catch up with the best Porn Discounts and Porn Deals on the market!