Can you really squirt like women in porn?
Seeing a girl squirting from all the pleasure she feels is hot; there is no doubt about that. But is that really, physically possible? Can you really squirt like women in porn? Or is it just a porn myth? Let's uncover the truth behind this wet delight.
The waterfall of pleasure
Picture this: you're working your girl's pussy hard, she moans loudly and twists her body uncontrollably. Then, you notice a surge of liquid coming out of her wetter-than-ever hole. She sprays it all over you, out of breath and with a content smile on her face. You have to appreciate the beauty of a woman's orgasm.
However, many believe that squirting like in porn is not possible, that it is only a myth. There is one hell of a debate on that topic.
Real VS myth
What do the opposite sides say? Some argue that squirting in porn is just a trick. A fantasy made to arouse men, not to show women's pleasure. However, if you ask anyone in the porn business, they will swear there are no tricks.
I've seen some porn movies where the squirting was painfully and obviously fake, but I've also seen some that looked very real. I guess there are both cases in the industry, but I'm not going to focus on porn now. I'm more interested in ordinary girls.
Personally, I've never made any girl I've been with squirt. But I still believe it's possible. I know that not being able to squirt or not being able to make your partner squirt can be really frustrating for many people. That is partly because porn pictures this moist act as the ultimate goal of female pleasure. That can put a lot of pressure on women to try to get there, and also on their partners to try to cause that kind of a waterfall. And when they don't succeed, they can feel as they've failed sex in general.
And that is bullshit! Despite what most people think, orgasms and squirting don't necessarily happen simultaneously. It's possible to have an orgasm without turning a pussy into a geyser. You can't expect it to happen every time, and it shouldn't discourage you when it doesn't happen.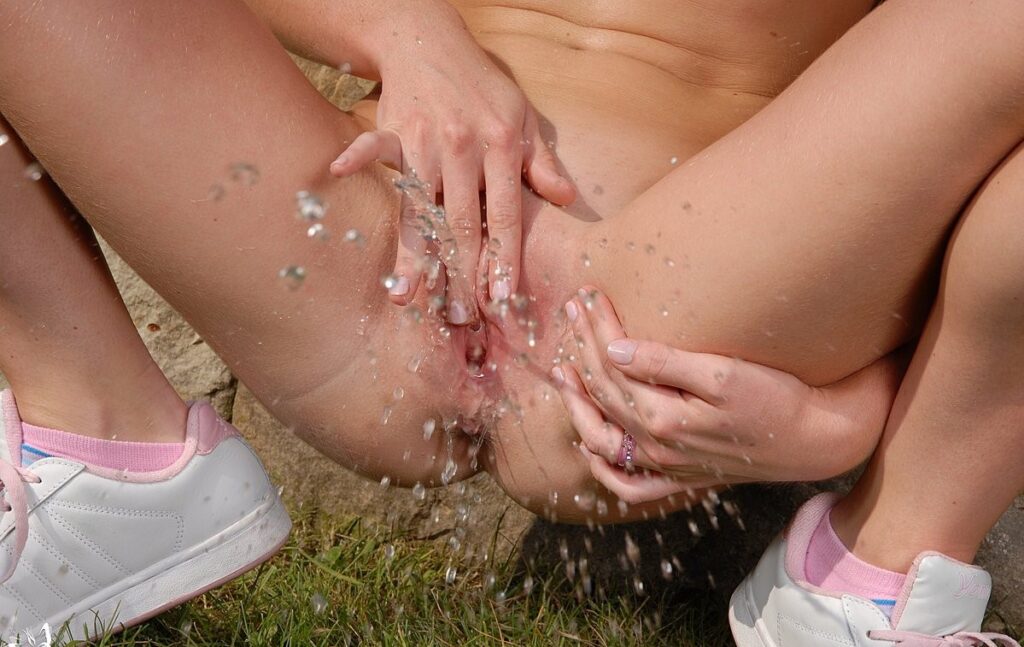 How does squirting happen?
Some people think that if you penetrate the pussy "in just the right way" or "hard enough", it will be enough to cause squirting. That is simply not true. To find out how it works, it's important to first understand what squirting is.
When people say squirting, they normally refer to female ejaculation that is shooting out of a pussy with strong momentum. Female ejaculation is a pretty common occurrence. That is the milky substance that usually comes out before orgasm. It is not the same as the lubricating juice that the pussy produces whenever it's aroused, as it has slightly different content. Typical femme ejaculation does have a little momentum, but it can't spray that far. So, that would mean that squirting would be when a woman manages to shoot her ejaculate further than usual. Is that possible, though?
The gushing of pussy juice is possible, but it usually requires some additional actions. And no, I'm not talking about going deeper and harder into the hole. Sexual health expert Ian Kerner, author of She Comes First: The Thinking Man's Guide to Pleasuring a Woman, explains how some women do it. He says that if a woman puts pressure on her pelvis and forcefully clenches and releases her bladder, she will cause the juices to shoot out.
Bladder? Does that mean what I think it means? – you ask. Well, yes, and no. This does not mean that squirting is the same as piss. Still, the chemical composition of this substance is closer to pee than to female ejaculate. I don't think anyone, except the scientist who analyzed it, noticed any similarity of the lady cum and piss. So, just don't think about the content and this science talk too much. Or, do, if you're into the peeing fetish.
Is it possible to squirt like women in porn?
As you can see, it is possible for a person with a vagina to shoot out the lady juice. Still, it's more of a deliberate act than something that happens when the body is out of control from pleasure. Some even believe that it can be harmful to the pelvic to manipulate your body into squirting too much.
In contrast to that, other people believe involuntary squirting is possible. They think it just takes the right kind of stimulation and that anyone can learn to do it. Patti Britton, PhD clinical sexologist, suggests that stimulating the area behind the G-spot, called peri-urethral ducts, which absorbs the ejaculate, can cause the release of that liquid. There is no doubt that, during squirting, fluid is coming out of the urethra — not from the vaginal canal. However, Dr. Britton believes that, when the G-spot region is stimulated enough, it can cause the effect of the release of the liquid.
Those who support this opinion even propose some ways to make your body squirt. They suggest that masturbation with a curved toy is the best way to practice. That is because curved toys are very convenient for reaching the G-spot. Of course, there is no reason why a partner can't help as well. There are even sex coaches that offer lessons in squirting.
Wrapping up
There is no greater gratification than making your girl orgasm like she's out of her mind from your fantastic sex skills. And squirting is often considered proof of the ultimate sexual pleasure. But it doesn't have to be. Not many women can squirt like in porn, but that doesn't mean they don't enjoy sex or don't have orgasms. Yeah, it's wonderful to see the flood between their sexy legs. Still, don't be surprised or disappointed if that doesn't happen every time.
All in all, there are still no concrete facts about whether or not it's possible to involuntarily squirt like women in porn. Some people with vaginas can't spray the juice far; others can. Still, it's not clear whether those who can squirt are really that turned on that they can't control themselves, or it's just the opposite – that they're conscious enough to force their pussies to shoot lady cum.
Stay updated with our NaughtyBlog and catch up with the best Porn Discounts and Porn Deals on the market!